Is CM Naidu inaugurating a new age of sycophancy?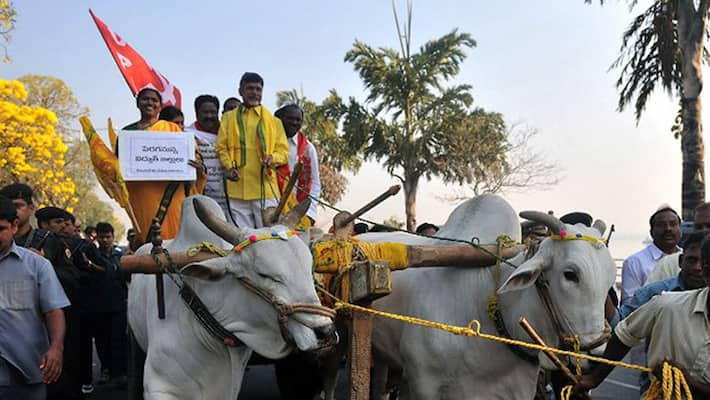 Though sycophancy is not new to the Telugu Desam party, it scaled new heights in the past one year of Chandrababu  Naidu's regime. 

In the past 12 months, Naidu has become 'Chandranna' and government schemes are being named after Chandranna. The naming of government schemes after the serving chief minister is unknown in Andhra Pradesh. Though attempts were made, earlier CMs discouraged the practice. 

The new era began in 2015 when social welfare minister Ravela Kishore Babu launched a scheme called 'Chandranna Kanuka' (Gift from Chandrababu Naidu) for a Sankranti festival. A kit containing Red gram (500 gms), Palm oil (half a litre), Chana dal (500 gms), Jaggery (500 gms), Wheat atta (one kilogram) and Ghee (100 ml) was to be  given to each BPL family in a bag also containing a large portrait of Naidu. 

Though some of these 'festival feast ingredients' were already being given under PDS every month, the TDP wanted to repackage this as a gift from the CM. It  cost the government about Rs 300 crore. The fact that the scheme later turned out to be a scam did not deter other ministers from continuing the trend.

Two more schemes - 'Chandranna Dalita Bata' and 'Chandranna Girijana Bata', have been launched, meant for laying cement roads in Dalits and tribal habitations. Then came the 'Chandranna Runa Mela' (Chandrababu Naidu loan disbursement) - a  programme meant to disburse loans and assets to poor under various government schemes.

Later, agriculture minister Prathipati Pullarao adopted the technique from social welfare department. His programme was named 'Chandranna Rythu Kshetram (Chandrababu Naidu farmers' farmland). Under the programme, demonstrations would be held to show how to reduce input cost to get maximum yield.

Now, yesterday, as part of the 66th birthday celebrations of the TDP supremo, health minister Kamineni Srinivas christened a scheme as 'Chandranna Sanchara Chikista' (Chandrababu Naidu mobile clinic), which is merely a modification of the existing 108 services. 

What is interesting is that when the cabinet cleared the project on last Saturday, it was NTR Sanchara Chikitsa. The health minister seems to have had second thoughts about naming a scheme after the long-gone NTR. Under the schemes, 275 mobile medical units roam around as primary healthcare centres across the state.

According to the opposition YSRCP MLA Kotamreddy Sridhar Reddy, this new fad displays CM Naidu's insecurity. 

"Naidu is scared of strong opposition and his failure to deliver. Levels of resentment are on the rise everywhere. So, he wants to simulate a fake success story by rebranding all old schemes of YSR with the hope that people would forget his failure and switch loyalties to him," said Sridhar Reddy.
Last Updated Mar 31, 2018, 6:38 PM IST