Ayodhya's Ram temple preparations: Sacred Shivling's grand welcome unite Hindu-Muslim devotees
Preparations for the inauguration of Ayodhya's Ram temple, set for January 2024, are underway and the ceremonial welcome of a sacred Shivling crafted from Omkareshwar Jyotirling took place in the city.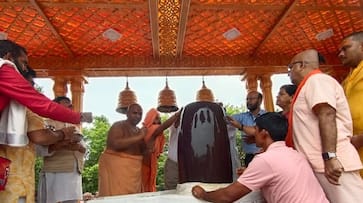 Preparations are underway for the upcoming inauguration of the grandeur Ram Temple in Ayodhya, scheduled for January 2024. Devotees hailing from various corners of the nation are actively contributing to this momentous occasion. In addition to the idol of Lord Ram, the sanctum sanctorum of the Ram temple will also house idols of other revered deities, including the installation of a Shivling. For this sacred purpose, a Narmadeshwar Shivling, crafted from a part of the Omkareshwar Jyotirling, has been selected, and it is now en route to Ayodhya.
The procession carrying the Shivling made a significant stop in Jhansi, where it was received with a grand and heartfelt welcome. Devotees of Lord Ram and Lord Shiva, including Jhansi Mayor Bihari Lal Arya, extended their warm greetings to the sacred Shivling. Remarkably, members of the Muslim community also actively participated in this welcoming event. Amjad Khan, among those present to receive the Shivling, emphasized that Lord Ram transcends religious boundaries and serves as an ideal for everyone.
The arrival of the Shivling, destined for installation in the sanctum sanctorum of the Ram temple, is considered an auspicious and momentous occasion. Kaif Ali, another devotee present, emphasized the importance of unity and brotherhood during these times, stressing the shared faith in Lord Shiva and Lord Ram.
Narmedshanand Maharaj, who leads the procession, explained that this Shivling is being transported to Ayodhya at the request of Champat Rai, who is actively involved in the construction of the Ram temple. Hindu Sanatan tradition dictates that a deity does not reside alone in a temple. Instead, a panchayat, a council of five deities, is established. The panchayat in the Ram temple will be headed by Lord Ram himself, and the Narmadeshwar Shivling will hold a revered place among them.
Last Updated Aug 21, 2023, 5:44 PM IST