Activists of VHP, Bajrang Dal tear posters of 'Pathaan' at Ahmedabad mall
Pathaan Row: Vishwa Hindu Parishad and Bajrang Dal activists protested at a mall in the Vastrapur area, tearing posters and other promotional material for the upcoming film 'Pathaan,' starring Shah Rukh Khan and Deepika Padukone.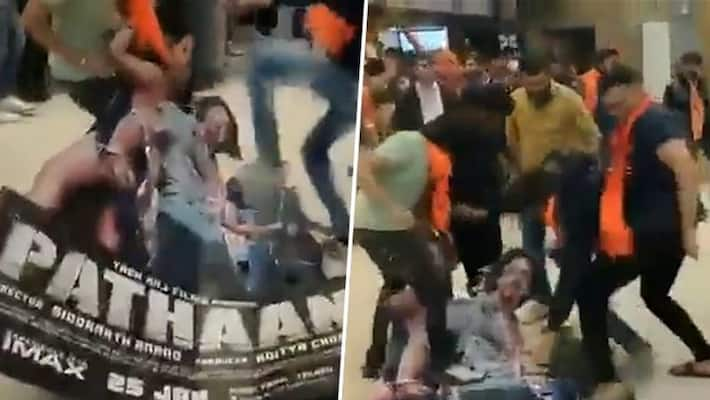 Prior to the release of Shah Rukh Khan and Deepika Padukone starrer 'Pathaan', members of right-wing outfits Vishwa Hindu Parishad and Bajrang Dal have started creating a ruckus. On Wednesday, activists of the VHP and Bajrang Dal protested at a mall in the Vastrapur area and tore up posters and other publicity material for the upcoming movie 'Pathaan.' 
In the two videos posted by the group's unofficial Twitter account, the activities can be seen raising 'Jai Shree Ram' slogans and tearing posters and large cutouts of Pathaan's star cast, despite mall security trying to stop them. The group tweeted, "Today in Karnavati Bajrangi washed #पठान, the anti-Sanatan Dharma @iamsrk and Tukde gang @deepikapadukone movies will not be allowed to screen. Warned the multiplex, if the film is released, the #बजरंगदल will show its attitude. Bajrang Dal in honour of 'Dharma.'" 
In another video, the activists marched outside the mall, abusing the actors and calling for a film boycott. "Bajrang Dal Gujarat will not allow Pathaan to be shown in any theatres," the tweet continued.
"Vastrapur police rushed to the scene and detained five activists," said inspector J K Dangar. The activists were later released. 
Previously, the Gujarat VHP said it would not allow the movie screening anywhere in Gujarat, particularly due to the song 'Besharam Rang,' in which Padukone is seen wearing a saffron gown while dancing with Khan. 
Gujarat VHP spokesperson Hitendrasinh Rajput said, "We will not allow 'Pathaan' screening in Gujarat. The protest against the movie release in Ahmedabad today should be seen as a warning to all theatre owners in the state. They must refrain from releasing the film in their theatres or multiplexes."
Also read: VIDEO: Urfi Javed shows her SEXY moves in 'Besharam Rang' wearing a BOLD saffron cut-out dress
Also read: Shah Rukh's reply to a fan reveals that Hrithik Roshan is inspiration for toned abs in Pathaan
Also read: Pathaan: Will Deepika Padukone's 'orange bikini' be remove from 'Besharam Rang'? SRK's film gets postponed?
Last Updated Jan 5, 2023, 1:41 PM IST