Turkey, Syria Earthquake: Revisiting India's efforts to aid nations rocked by natural disasters in past decade
India has sent two plane-loads of relief materials and medical teams for survivors of the devastating earthquake in Turkey and Syria that killed over 4,000 people.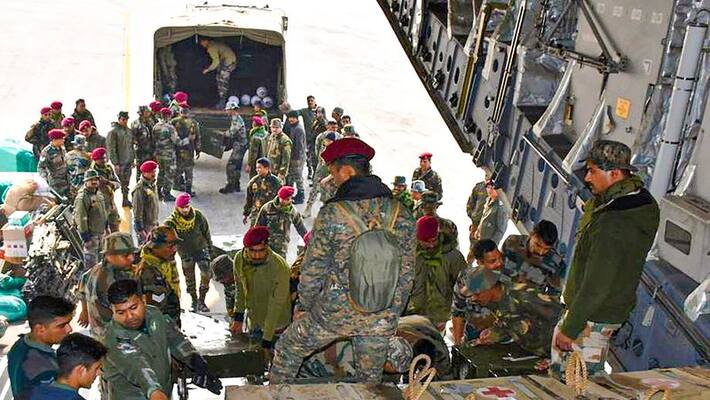 New Delhi: Hours after the devastating earthquake hit southeast Turkey, killing over 4,000 people, India sent two batches of relief materials, along with NDRF search and rescue teams and Army's field hospital, to step up the search for survivors. 
The NDRF teams consist of specially trained dog squads, medical supplies, drilling machines and other necessary equipment. Meanwhile, the Indian Army's teams comprise critical care specialist teams, including Orthopedic Surgical Team, General Surgical Specialist Team, and Medical Specialist Teams, apart from other medical units. 
Also read: Earthquake in Turkey and Syria: How satellites can play a major role in rescue efforts
The teams are equipped with X-ray machines, ventilators, an Oxygen generation plant, Cardiac monitors and associated equipment to establish a 30 bedded medical facility. 
In terms of numbers, a total of 99 Indian Army personnel were dispatched on Wednesday morning to provide medical support to the affected people in the region.
On Monday evening, Minister of State for External Affairs V Muraleedharan visited Turkey's embassy in the national capital and expressed condolences. The minister also conveyed Prime Minister Narendra Modi's sympathy and humanitarian support.
In response, Turkey termed India as "Dost". In a Twitter post, Turkey's ambassador to India, Firat Sunel, said, "'Dost' is a common word in Turkish and Hindi... We have a Turkish proverb: "Dost kara gunde belli olur" (a friend in need is a friend indeed). Thank you very much India."
The quake's epicentre was near the city of Gaziantep in south-central Turkey. It is believed to be one of the more powerful earthquakes that hit Turkey in over a century. Over 4,400 people were reportedly killed, and more than 15,000 were injured.
The 7.8 magnitude tremor struck at 04:17 (01:17 GMT) on Monday at a depth of 17.9km (11 miles) near Gaziantep, as per the US Geological Survey.
A total of 24 aftershocks were recorded in the country. According to the European Mediterranean Seismological Centre, the quake's effects were felt in the countries like Syria, Lebanon, Cyprus, Greece, Jordan, and Iraq and as far away as Romania, Georgia and Egypt.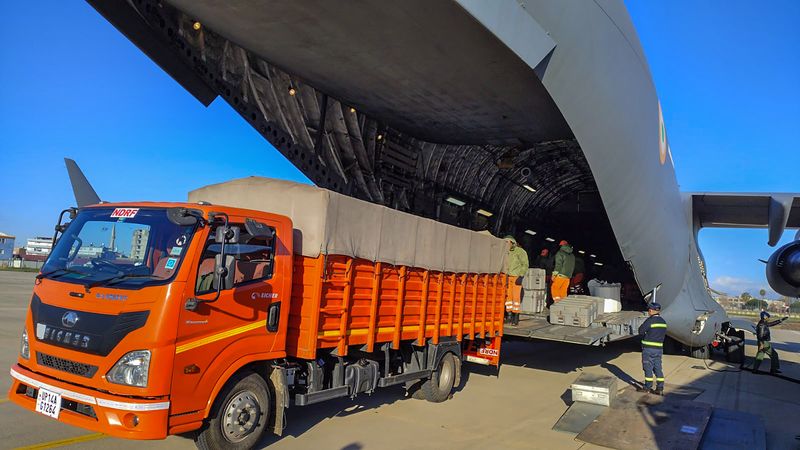 In recent years, India has emerged as a net security provider in the Indo-Pacific region as its capacity to provide humanitarian assistance and disaster relief has grown manifold.
Also read: Earthquake in Turkey, Syria: Horrific visuals of most-powerful earthquake in a century stun the world
Let's have a look:-
In January 2020, Indian Navy launched 'Operation Vanila' to undertake Humanitarian Assistance and Disaster Relief mission to Madagascar after post devastation caused by Cyclone Diane.
INS Airavat undertook relief operations after floods from heavy rains led to a crisis in Madagascar. It provided medical aid, and the Indian Navy medical team was deployed to the affected areas. 
In October 2020, Indian Naval Ship Kiltan delivered 15 tonnes of humanitarian assistance to the flood-affected in Cambodia. 
In March 2019, the ships of the First Training Squadron operating in the Southern Indian Ocean were diverted to Port Beira in Mozambique to provide HADR to the local population post the devastation caused by cyclone 'IDAI'.
In September 2018, INS Tir, Sujata and Shardul were diverted from Singapore to Palu in Indonesia to deliver relief materials after the city was devastated by the high-intensity earthquake and the tsunami.
Also read: Why buildings in Turkey, Syria collapse like pancakes during earthquake? Here's what expert suggests
The same year, the Indian Navy delivered 370 tonnes of relief material to Bangladesh at Chittagong harbour.
In January 2018, it also assisted Mauritius when the island nation was hit by tropical depression 'Berguitta' in the Southern Indian Ocean Region. 
In May 2017, India sent its three warships --- INS Kirch, INS Shardul and INS Jalashwa to flood-ravaged Sri Lanka, carrying over 200 personnel on board, including specialized rescue, diving and medical teams, and a large amount of relief material and Gemini inflatable boats.  
In September 2017, the Indian Navy ship Gharial was deployed to deliver relief aid to Bangladesh for refugee Rohingyas. 
In the same year, INS Sumitra visited Yangon, Myanmar, to hand over relief material as a token of solidarity of the people of India with the people of Myanmar in the aftermath of Cyclone Mora.
In 2015, Indian Army launched 'Operation Maitri' within 15 minutes of the Nepal earthquake on April 26 to respond to the catastrophe. The earthquake massively hit the tiny Himalayan nation. India had provided Rs 96 crore to Nepal as part of its commitment towards assistance and rehabilitation. In the quake, over 9,000 people were in the country.
In September 2014, Indian Air Force conducted 'Operation Neer' to extend support to the Maldives after the island nation suffered a major drinking water crisis. The Indian Air Force pressed in its three C-17 and three IL-76 transport aircraft to airlift 374 tonnes of drinking water to Male.
Also read: Dutch expert 'predicted' Turkey earthquake 3 days ago!
Last Updated Feb 7, 2023, 6:45 PM IST