Russian Su-27 fighters dumped fuel on US drone: How did they do it?
US European Command said two Russian Su-27 fighters intercepted the unmanned MQ-9 Reaper over international waters and one clipped its propellers. Girish Linganna reports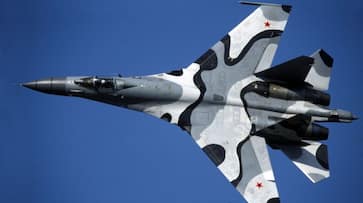 The face-off between Russia and the West took a dangerous turn with an American drone crashing into the Black Sea after being intercepted by two Russian Su-27 fighters. The MQ-9 Reaper was flying over international waters when it was intercepted by the Russian jets. The US military criticised the act as being 'reckless'.
Prior to the collision, the Su-27s reportedly flew in front of -- and dumped fuel on -- the MQ-9 multiple times, which the US military termed environmentally unsound and unprofessional. Although the Pentagon stated that the drone crash occurred during a routine intelligence, surveillance and reconnaissance operation, Moscow denied any responsibility for the incident.
Major policy shift; US resolution recognises McMahon Line, calls Arunachal Pradesh part of India
According to the Russian Defence Ministry, the MQ-9 experienced an uncontrolled descent and crashed due to a sudden manoeuvre, and the Su-27s did not make contact with the US aircraft or employ any aggressive tactics.
What is a fuel dump, and what is its impact?
A fuel dump is a procedure in which an aircraft intentionally releases fuel into the air during flight. This is typically done to reduce the weight of the aircraft in emergency situations, or when the aircraft is required to make an immediate crash-landing.
Fuel dumping is most commonly used in situations where an aircraft needs to make an emergency landing due to an equipment malfunction, such as an engine failure, or if the aircraft is too heavy to land safely without first reducing its weight. By dumping fuel, the aircraft reduces its weight, making it safer to land.
It is important to note that fuel dumping is not a routine practice and is used only in emergency situations. Additionally, aircraft are designed to minimize the impact of fuel dumping on the environment and public health.
The fuel is usually dumped at a high altitude, where it can disperse and evaporate before reaching the ground and the crew usually selects a location where the impact to the environment and public health is minimal.
Regulations around fuel dumping
Fuel dumping is a crucial procedure for both commercial and military planes, but it is necessary to enhance technologies and procedures to ensure that it is done securely with minimum impact on the surroundings and individuals on land. This entails creating more efficient systems for overseeing and directing fuel dumping procedures and improving collaboration and coordination among various military units.
Role of international organisations
The International Civil Aviation Organization (ICAO) is an important global organization that regulates fuel dumping operations. It has established guidelines and standards for these operations that are followed by most countries worldwide. However, there is a requirement to enhance these guidelines and guarantee their effective implementation.
Agonising wait for a US green card could soon end; Read how
Last Updated Mar 15, 2023, 3:44 PM IST