iPhone 15 series: 4 benefits of replacing lightning port with USB-C port
Apple is openly sharing the details of this new USB C tech on iPhone 15 models and how consumers benefit from using this charging technology. Apple has listed out the features of the new USB-C charging port that you have on all the iPhone 15 series models this year.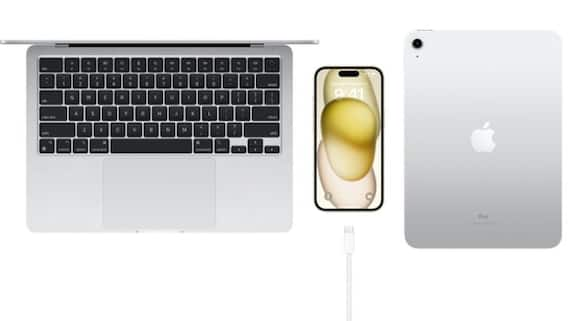 Apple is dishing out the details about the new USB C charging port that you get on the iPhone 15 series this year. The European Union (EU) regulations for charging devices led the corporation to make this significant transition, shifting away from the exclusive lightning connector.
But now that the switch has been made official and the compatible model is available in all iPhone markets, Apple is freely disclosing the specifics of the new USB C technology on iPhone 15 models as well as the advantages of using it for charging. In a support document, Apple describes the specifics of the USB C charging on the iPhone 15 series.
Also Read | Did you know iPhone 15 Pro Max sold out in an hour during pre-order rush?
Charging using Power Delivery: According to Apple, you can use any USB C cable that supports PD to charge the iPhone 15 models, which is sure to gratify the millions of Android users who have relied on PD cables for years. Having said that, the charging speed has not changed, unless you go for the higher-wattage iPhone adapter.
You can charge other Apple products: iPhone 15 can help you charge special Apple devices like the AirPods and the Apple Watch. Although Apple doesn't say it precisely, the iPhone 15 series' USB C connector supports reverse wired charging, just like iPads do.
Also Read | Buy OnePlus Nord 3 5G & you will get FREE OnePlus Nord Buds 2R wireless earphones!
Fast data transfers: The iPhone 15 Pro and 15 Pro Max's USB 3.2 standard enables data transfer rates of up to 10Gbps. You would need to shell out a little extra money to get this appropriate cable because Apple only includes a USB C 2.0 cable in the package.
Other features: Connect external speaker, connect external display and more. It has been questioned if a Made for iPhone/iPad (MFi) cable is required to securely charge the iPhone while utilising third-party USB-C cables to charge the iPhone 15 models. The fact that no special cable is mentioned for charging iPhones is excellent news for many.
Also Read | When will Apple start making the latest iPhone 15 Plus in India?
Last Updated Sep 18, 2023, 4:15 PM IST