iPhone 15 Pro's titanium frame prone to change colour due to fingerprints, warns Apple
In a supported document, Apple has said that due to its titanium body, the iPhone 15 Pro models might temporarily 'change colours' when users hold the phones in their hands. The iPhone 15 goes on sale today.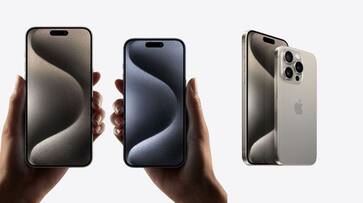 The iPhone 15 Pro was unveiled on September 12 during Apple's Wonderlust event. There is already a lot of enthusiasm about the phones, which go on sale today. Since the iPhone 15 Pro has a titanium body, Apple claims in a support document that a user's skin oil may momentarily "alter the color" of the smartphone. However, this alteration is acceptable and there is no cause for concern. Apple also disclosed how to return the iPhone 15 to its original appearance.
While introducing the iPhone 15 Pro, Apple CEO Tim Cook called it 'the most Pro iPhone' they have ever created. The iPhone 15 Pro appears to be the ideal choice for those searching for a strong beast that can do it all, with a potent CPU, amazing camera enhancements, and promising features. The phone's titanium body, which makes it lighter and more robust, was one of the features that Apple highlighted the most when it first unveiled it. However, the titanium frame might potentially result in color changes.
Also Read | Facebook rolls out option to create up to four additional profiles
Apple highlighted the possibility of a "color alteration" for iPhone 15 Pro units in the aforementioned support page. The tech juggernaut said that cleaning the iPhone with a soft, slightly wet cloth is the best method to undo this.
"The oil from your skin may momentarily change the color of the exterior band for iPhone 15 Pro and iPhone 15 Pro Max. The original appearance may be restored by wiping your iPhone with a gentle, slightly moist, lint-free cloth," according to the document.
Also Read | CMF by Nothing Watch Pro, Buds Pro key specs revealed ahead of launch
Other iPhones with glass finishes and "material transfer" that occasionally could feel like a scratch were also mentioned by Apple. "With regular use, the textured glass of your iPhone may exhibit material transfer from materials like as denim or things in your pocket that come into touch with your phone. Although material transfer may resemble a scratch, it can typically be erased," the firm claimed.
Black titanium, white titanium, blue titanium, and natural titanium are the four color possibilities for the phone.
The Grade 5 titanium body of the iPhone 15 Pro is designed to increase the phone's strength and reduce its weight. The phone's 6.1-inch Super Retina XDR display has the 'thinnest boundaries ever' for an iPhone. A ceramic shield is present at the front as an additional layer of defense. The phone's edges are also softened and smoother, which should improve grip.
Also Read | Apple iPhone 15 series sale begins: Long queues outside Mumbai, Delhi, Dubai stores - WATCH
Last Updated Sep 22, 2023, 1:06 PM IST