Google Pixel Watch 2 promo video LEAKED! Smartwatch to focus on health features & more
Google is set to release the Pixel Watch 2 in India on October 4th, with pre-orders commencing the following day. The new smartwatch reportedly offers more features than its predecessor, including a Fitbit heart rate sensor and health-focused technology.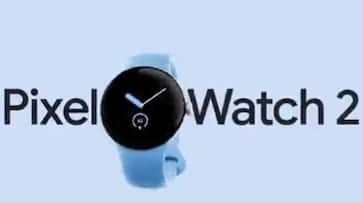 Google will finally launch the Pixel Watch 2 in the Indian market. The watch will only be accessible for pre-orders after October 5 despite the formal launch event taking place on October 4. The next smartwatch's design and technical details have been posted online in advance of the big debut.Comparing the Pixel Watch 2 to its predecessor, more features are anticipated. A promotional film is also available that displays the Pixel Watch 2's complete appearance and capabilities.
The new Pixel Watch 2 is scheduled to be on sale on October 4th, and this time, Google is also bringing it to India.
What has changed with the Pixel Watch 2 then?  It has more features than the earlier edition. Even a sneak look movie that demonstrates all of its great features is available. It has a new Fitbit heart rate sensor, which is the first upgrade. This sensor claims to provide incredibly precise heart rate measurements, even during strenuous exercise.
Also Read | Google may ship Pixel Watch 2 for free with upcoming Pixel 8 Pro: Report
A major focus of the Pixel Watch 2 is health. It has the ability to detect when you're anxious and offers suggestions for relaxation techniques like breathing exercises. To determine how you're feeling, it employs specialized technology to analyze things like sweat and skin temperature.
Also Read | iPhone 15 Pro, iPhone 15 Pro Max being sold above official prices due to high demand: Report
For people who enjoy being active, this watch can recognize whether you are outside riding or jogging. Even the beginning and end of your exercises will be prompted. Additionally, it has tempo training options for you.
Another critical component is safety. With the "Safety Check" feature of the Pixel Watch 2, you may set a timeframe for particular circumstances. The Pixel Watch 2 has a day's worth of battery life even with the display always on. And it charges completely in approximately 75 minutes, which is rather quickly. Similar to the earlier Pixel Watch, the battery life is roughly the same.
Also Read | Google Pixel 8, Google Pixel 8 Pro specifications leaked ahead of launch
Last Updated Sep 26, 2023, 1:24 PM IST