Apple iPhone 15 series to go on sale today; Check features, price, offers and more
Starting today, both physical stores and online will sell Apple's new iPhone 15 series in India. Along with the newest Apple Watch series and the AirPods Pro with USB-C connectivity, there are four different models of the iPhone 15, each with different color and storage possibilities.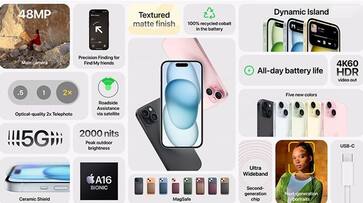 After much anticipation, today is the day when you can finally get your hands on the new iPhone 15 series, which is available in India as of right now. The new iPhone 15 variants are now accessible both online and in physical locations, according to Apple.
On September 15, Apple opened preorders for the iPhone 15 series in India and 40 other nations. The corporation will start sending out these preorders starting today. While the new iPhones are now available for purchase in more than 40 nations, residents of Macau, Malaysia, Turkey, Vietnam, and 17 other areas will have to wait until September 29 in order to do so.
The cost of these stylish devices is as follows: The starting price for the entry-level iPhone 15 with 128GB of storage is Rs 79,900, while the iPhone 15 Plus is Rs 89,900. The top-tier iPhone 15 Pro Max with 256GB storage costs Rs 1,59,900, while the entry-level iPhone 15 Pro with 128GB storage costs Rs 1,34,900.
Also Read | Google Pixel Watch 2 may feature enhanced health features like thermometer: Report
However, Apple still has more to offer. The business also unveiled the most recent Apple Watch series and AirPods Pro with USB-C capability during its presentation on September 12. The Apple Watch SE (2nd gen) is more affordable and starts at Rs 29,900, while the Apple Watch Series 9 starts at Rs 41,900.
iPhone 15 Price in India:
iPhone 15 (128 GB): Rs 79,900
iPhone 15 (256 GB): Rs 89,900
iPhone 15 (512GB): Rs 1,09,900
iPhone 15 Plus Price in India: 
iPhone 15 Plus (128 GB): Rs 89,900
iPhone 15 Plus (256 GB): Rs 99,900
iPhone 15 Plus (512 GB): Rs 1,19,900
Also Read | Redmi Note 13 series to launch in China on September 21; Here's what we know so far
iPhone 15 Pro Price in India:
iPhone 15 Pro(128 GB): Rs 1,34,900
iPhone 15 Pro(256 GB): Rs 1,44,900
iPhone 15 Pro(512GB): Rs 1,64,900
iPhone 15 Pro (1 TB): Rs 1,84,900
Additionally, Apple is being kind and is providing discounts on both its online and physical shops. Apple launched its first two exclusive retail locations in India this year, which are situated in Mumbai and Delhi. These Apple stores serve as one-stop shops for the purchase of goods, services, and accessories in order to provide customers an exceptional experience. It's time to check out the new iPhone 15 series at your local Apple shop or online, whether you're an Apple enthusiast or just in need of a tech upgrade.
Also Read | iPhone 15 series: Did you know your phone will stop charging beyond 80% to improve battery life?
Apple is offering discounts on a number of items, including iPads, MacBooks, and more, in addition to the iPhone 15 series. On iPad Pro, iPad Air, and other iPad models, you can receive discounts of up to Rs 4,000. Discounts of up to Rs 8,000 are available on MacBook models such the MacBook Air M2 chip, MacBook Pro in 13-inch, 14-inch, and 16-inch widths, Mac Studio, MacBook Air M1 chip, iMac 24-inch, and Mac mini. They also provide free 3- and 6-month EMI contracts. Customers may exchange their old smartphones for credit toward the purchase of a new Apple product. Additionally, while purchasing online, there are flexible delivery and pickup choices.
Last Updated Sep 22, 2023, 10:33 AM IST