Will Smith finally speaks up on explosive memoir of wife Jada Pinkett; labels it 'emotional blindness'
A few days after Jada Pinkett said that she got secretly separated from Will Smith for seven years, he has now reacted to her bombshell memoir. Will Smith stated how he has woken up from the emotional blindness after reading the tell-all memoir of his estranged wife Jada.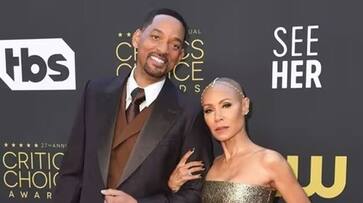 Will Smith has broken his silence on the bombshell revelations made by estranged wife Jada Pinkett in her tell-all memoir Worthy. The recent comments of Jada about their marriage caught media headlines over the last few days. As per a report by a leading global entertainment portal, the Oscar winner revealed that revelations of his estranged wife, Jada Pinkett, have woken him from an emotional blindness over the years.
ALSO READ: 'Tiger 3' trailer REACTION: Fans hail Salman Khan's 'powerful dialogue' and 'action' against Emraan Hashmi
As per the report by the leading global entertainment portal, Will Smith has broken his silence and addressed the bombshell revelations made by his estranged wife, Jada Pinkett, in an email to a leading global entertainment portal. Will said, "When you have been with someone for more than, half of your life. A certain sort of emotional blindness sets in, and you can easily lose your sensitivity to their hidden nuances and subtle beauties."
He also added that the revelations made in the memoir kind of woke him up. He had also realized that Jada was more resilient, clever and compassionate than he had understood.
These comments of Will Smith come into the picture after Jada disclosed that the duo were separated secretly for seven years. A few days ago, in an interview with NBC News special with Hoda Kotb, Jada shared, "I think by the time we got to 2016. We were just exhausted with trying. We were both still stuck in our fantasy of what we thought the other person should be. I made a promise that there would never be a reason for us to get a divorce. We will work through whatever. I just have not been able to break that promise." Jada also revealed that Chris Rock had once asked her out on a date amid rumours of her divorce from Will Smith.
Will Smith had slapped Chris Rock on the Oscars stage in the 2022 ceremony. Chris had made a joke about the bald head of Jada. When he traced his steps back to his seat, Will said, "Keep my wife's name out of your f-----g mouth."
ALSO READ: Captain America star Chris Evans confirms marriage to Alba Baptista; Read details
Last Updated Oct 16, 2023, 1:42 PM IST