Captain America star Chris Evans confirms marriage to Alba Baptista; Read details
Chris Evans confirms marriage to Alba Baptista at New York Comic Con, ending speculation. He describes their two ceremonies and shared joy, wearing a wedding band at the event, delighting fans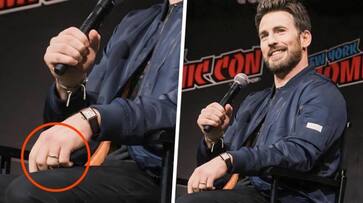 In a welcome revelation for his devoted fans, Chris Evans has put an end to all lingering speculations about his marital status with Alba Baptista. The 42-year-old actor officially confirmed his marriage during a panel at the New York City Comic Con held on a Saturday. This renowned annual event plays host to a galaxy of celebrities and luminaries from the realms of comics, movies, graphic novels, anime, manga, video games, and more.
With an air of excitement, Evans shared, "I got married. It was really, really great. We kinda had two ceremonies. We had one on the East Coast and another one in Portugal. My wife's Portuguese. Yeah, go Portugal!" The actor's heartfelt disclosure shed light on the joyous and remarkable nature of their matrimonial journey.
Evans further elaborated on the wedding festivities, stating, "They were wonderful and beautiful. It's a lot of planning to have a wedding. For those of you who are married, you know it takes a lot out of you. Now that we're through that, we've just been enjoying life and gearing up for autumn, my favorite season. It's, like, the best time of year right now. Now we're just relaxing and enjoying life and reflecting."
This significant revelation by Chris Evans undoubtedly brings solace to his ardent fans, finally putting to rest any lingering doubts regarding his marital union with Alba Baptista. During his appearance at the Comic Con event, the renowned Captain America star graciously posed with many of his fans and well-wishers, all of whom were excited to share in his joy. The observant eyes of fans also noted Evans proudly donning a wedding band, sealing the confirmation of his newfound marital bliss.
Last Updated Oct 16, 2023, 12:39 PM IST