'Tiger 3' trailer REACTION: Fans hail Salman Khan's 'powerful dialogue' and 'action' against Emraan Hashmi
After a long wait and anticipation among cinephiles and ardent Salman Khan fans, the makers have revealed the much-awaited trailer of the actioner-thriller extravaganza film 'Tiger 3' from the YRF Spy Universe. Salman Khan fans cannot stop raving about the phenomenal performance from the 'Tiger' of Bollywood, Salman Khan and are also awestruck by Emraan Hashmi's menacing villain.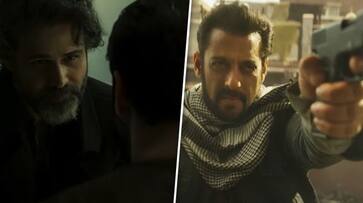 It is finally that moment that all the bollywood industry, global Salman Khan fandom, audiences and netizens have been waiting for. The much-awaited trailer of YRF Films' banner-backed actioner-thriller extravaganza film 'Tiger 3' helmed by ace bollywood filmmaker Maneesh Sharma, which stars Salman Khan, Katrina Kaif and Emraan Hashmi in pivotal roles, got dropped by makers today. The trailer presents a blend of action, romance, drama, gore, and an exhilarating chase between Tiger and Emraan, the brutal villain that captures Tiger.
ALSO READ: 'Tiger 3' trailer OUT: Salman Khan on mission to protect family, Emraan Hashmi menaces as villain (Watch)
Also, the cinematography is exceptional. The action sequences of Tiger, Zoya and Emraan are well-made and have flawless perfection, with a gritty storyline and the intriguing emotional backstories of all three main characters, making ardent cinema lovers and fans more pumped and thrilled to watch it unfold on theatre screens.
The trailer is brilliant and flawless, which presents a mix of all quintessential elements that are present in YRF Spy Universe films like the stunning action element, love, drama, murder, emotions, anger and love for motherland Bharat, and importantly, Tiger and Zoya having deadly chase with Emraan to save their personal life and also the country. The movie Tiger 3 drops on November 12, 2023, which is Diwali, in the movie theatres. Definitely, the excitement and zeal among cinema lovers to see Tiger, Zoya and Emraan Hashmi have amplified manifolds after watching the spectacular and well-made trailer. Fans have now taken to X and given reactions to the trailer.
A fan said, "#Tiger3Trailer is awesome. I have literally lost my senses after seeing this. What a great action #SalmanKhan has done. He has tremendous power in dialogue delivery, like a lion or a TIGER."
A fan noted, "Emraan Hashmi's Dialogue Delivery is far better than Salman Khan. Highlight of the Trailer. #Tiger3Trailer."
A fan added, "The EPIC face-off between #SalmanKhan and #EmraanHashmi is definitely going to EXPLODE the cinema hall. #Tiger3 #Tiger3Trailer."
A netizen shared, "BEST TRAILER IN THE HISTORY OF INDIAN CINEMA, This #Tiger3Trailer Guarantees that No Record will go Unbroken! 1000- 1500 CRORE hogya yahi pe! Look at that scale, The Presentation of Biggest Megastar #SalmanKhan. I am Falling short of Words to Describe it! #Tiger3."
A Salman Khan fan page raved, "Ohh Bhai bhai bhaiii. I was blown away. Totally numb! Fck 1000cr bc 2000cr loading. #SalmanKhan Blockbuster #Tiger3Trailer. The Baap of Bollywood is back and how."
ALSO READ: Kuch Kuch Hota Hai 25 years: Karan Johar would cast Alia, Ranveer, Janhvi is iconic movie is remade; Read on
Last Updated Oct 16, 2023, 12:46 PM IST