Video: Jailer star Rajinikanth in Sulur, attends his grandson Veer's ear-piercing ceremony
Rajinikanth and his wife Latha were at Sulur for their grandson Veer's ear-piercing ceremony. Thalaivar's photos and videos are now going viral on social media.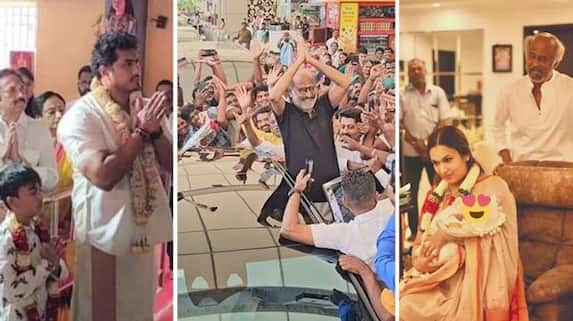 On September 17, Rajinikanth and his wife Latha and their families landed at Coimbatore airport. They travelled to Sulur to attend the ear-piercing ceremony for Soundarya Rajinikanth and Vishagan Vanangamudi's kid, Veer. Thalaivar's photos and videos from the family function are now going popular on social media. Rajinikanth announced at the airport that he had to abandon his intentions to see former Andhra Pradesh Chief Minister Chandrababu Naidu in prison due to a family occasion.
Veer Rajinikanth Vanangamudi is the name Soundarya, and Vishagan gave to their kid. When the couple landed in Sulur for a few ceremonies on September 17, they finally showed their son's face.
Rajinikanth and Latha landed in Coimbatore before proceeding to Sulur temple for the ceremony. In addition to piercing Veer's ears, they tonsured his skull as part of a rite. Later, Rajinikanth and Vanangamudi's families gathered in Coimbatore's Le Royal Meridian for a family celebration.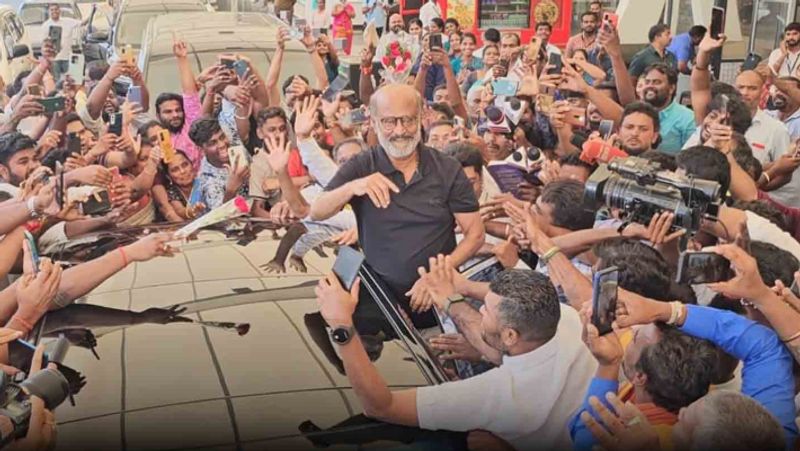 On the work front, Rajinikanth was most recently seen in Nelson Dilipkumar's 'Jailer'. The film grossed over Rs 650 crore globally and dominated the box office. 'Lal Salaam,' the actor's forthcoming feature, has just finished dubbing. The film, directed by his daughter Aishwarya, would include Rajinikanth in an extended cameo appearance.
Rajinikanth will soon begin filming for his 170th film with TJ Gnanavel. After completing this film, he will collaborate with Lokesh Kanagaraj and Sun Pictures on 'Thalaivar 171'.
Last Updated Sep 18, 2023, 12:05 PM IST