Tiger 3 Box Office: Salman Khan, Katrina's film gets impact by World Cup match; hits Rs 162 crore in 4 days
Early estimates indicate that Tiger 3 took in about Rs 20 crore on Wednesday. The India vs. New Zealand World Cup Semi-Final affected the box office receipts.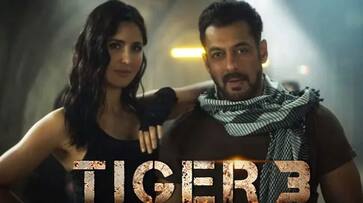 Tiger 3, starring Salman Khan and Katrina Kaif, made between Rs 19.50 and Rs 20.50 crore on its fourth day of box office receipts, bringing its total to around Rs 162 crore. The actuals may differ in the morning after the comings from mass belts come into action. The estimations are based on collecting from multiple players.
Salman Khan and Katrina Kaif's Tiger 3 is Affected by the World Cup Semi-Final
The semi-final between India and New Zealand hurt the business since, in a perfect world, Bhai Dooj would have brought in between Rs 26 and Rs 28 crore. The Maneesh Sharma-directed film starring Salman and Katrina has performed well at the box office thus far in its run, but it has fallen short of the enormous pre-release expectations. Tiger 3's hopes of hitting the Rs 500 crore club and its blockbuster figures are now eliminated after this four-day run. Instead, we will need to wait and watch how far it goes over the next two weeks in order to determine a final figure.
Also Read: Nana Patekar slaps fan: Actor breaks silence on viral video and says, "it happened by mistake"
Call it just bad luck for the producers, but Tiger 3's first week's revenue might reach almost Rs 220 crore. However, the World Cup Final will again hurt the film's second Sunday business. Tiger 3 encountered resistance on a few days during its first week of sales, so moving forward, the focus will be mostly on the long-term trend to offset the revenue shortfall from the first week.
A strong movie will always compensate for its setbacks; therefore, it's important to determine whether Tiger 3 has what it takes to overcome its early disadvantages in the long run. That being said, considering the celebrity cast, the franchise value, and the increasing cost of tickets, Tiger 3's four-day sales should have increased by at least 15% despite all of the difficulties.
Also Read: Sonam Kapoor, Anand Ahuja host party for footballer David Beckham, see pictures
The hugely anticipated Tiger 3 features Salman Khan in the lead alongside Katrina Kaif and Emraan Hashmi. The film, helmed by Maneesh Sharma, was released in cinemas on November 12th, 2023, in Hindi, Tamil, and Telugu.
Last Updated Nov 16, 2023, 11:25 AM IST