Nana Patekar slaps fan: Actor breaks silence on viral video and says, "it happened by mistake"
'Please forgive me,' says Nana Patekar as he spoke about the viral video of his slapping a fan who wanted to share his selfie. The actor has now reacted to the incident.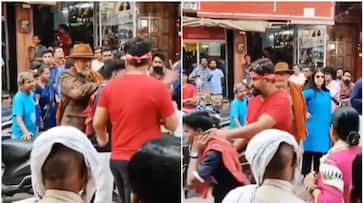 After going viral with a video of himself hitting a youngster for attempting to snap a photo with him on his movie sets, actor Nana Patekar has now spoken out. The video has generated a significant debate, with online users criticising Nana for being "rude" to his followers. In response to the widely shared video, Nana has now stated that it was "by mistake."
The actor was accused of hitting a fan while filming "Journey," his upcoming movie, in Varanasi. The actor was said to have smacked a fan when the admirer attempted to take a selfie. Anil Sharma, the director, has previously denied the claim. Nana Patekar has now responded to the viral video and made clear where he stands.
Also Read: World Cup 2023: Here's why netizens warn Amitabh Bachchan not to watch the final match
Anil Sharma had previously informed Aaj Tak that there is no truth to the viral video that purports to show actor Nana Patekar slapping a child for attempting to snap a photo with him. It was, he said, a sneak peek at a future project.
Nana Patekar has now responded to the video as well. 
Now, Nana Patekar has also reacted to the video. He said in a video message, "A video is going viral where I have hit a boy. Though this sequence is a part of our film, we had one rehearsal. We were scheduled to have a second rehearsal. The director told me to begin. We were about to begin when the boy in the video came in. I didn't know who he was. I thought he was one of our crew so I slapped him as per the scene and I told him to leave. Later, I came to know that he was not a part of the crew. So, I was going to call him back but he ran away. Maybe his friend shot the video. I have never said no to anybody for a photo. I don't do this...This happened by mistake...If there is some misunderstanding, please forgive me...I will never do anything like this."
Also Read: Sonam Kapoor, Anand Ahuja host party for footballer David Beckham, see pictures
On November 15, a video of Varanasi native Nana Patekar went viral online. Patekar is shown in the same video slapping a fan on the head who attempted to snap a photo with him. While he is filming his upcoming movie in Varanasi, the 10-second viral video was taken close to Dashashwamedh Ghat.

Regarding work, Nana Patekar's political thriller "Laal Batti," which is helmed by Prakash Jha, will shortly mark his OTT debut.
Last Updated Nov 16, 2023, 9:40 AM IST