The Vaccine War's filmmaker Vivek Agnihotri on Shah Rukh Khan's Jawan and Pathaan, says 'I have a problem....'
Filmmaker Vivek Agnihotri recently reacted to the success of Shah Rukh Khan's Pathaan and Jawan. He called it a psycho frenzy and very 'superficial. Read the full interview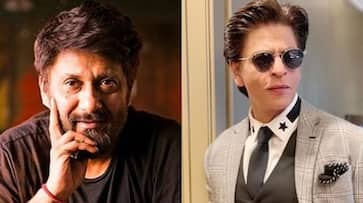 Shah Rukh Khan is flying with the earth-shattering records of the two action pictures, Pathaan in January and Jawan in September. In the middle of Jawan's popularity, Vivek Agnihotri's The Vaccine War, which, hit the silver screen on September 28. In a recent interview with Siddharth Kanan, the filmmaker described Jawan and Pathaan's popularity as a "psycho frenzy." 
Speaking about SRK's Jawan and Pathaan, Vivek Agnihotri believes the star's latest flicks are 'superficial' and that he can do much better. "Whichever films have been released. Those that I have watched, I found them very superficial. They are okay at the level of an action film but to present them as a standard of filmmaking and that this is the end of show business, I don't agree with that. Then I think it's a psycho frenzy. I have a problem with that," he said.
Also Read: Chandramukhi 2: Kangana Ranaut hits out at trolls calling film a box-office disaster; Read
Also, the filmmaker spoke about the podcast that went viral where he talked about Khan greeting with Salaam and not Namaste. He clarified and said, "The trolls and bots created by Shah Rukh Khan's social media agency, have decided to attack Vivek Agnihotri. They have a feeling that I may…but I always praise him."
Talking about The Vaccine War's box office report: 
The Vaccine War, directed by Vivek Agnihotri, was released on September 28 and earned Rs 5 crore in four days. On Day 1, the film grossed less than Rs 1 crore. On the other side, Shah Rukh Khan's Jawan surpassed Sunny Deol's Gadar 2 as the highest-grossing Hindi film of all time. SRK will next be seen in Rajkumar Hirani's Dunki, co-starring Taapsee Pannu. 
About The Vaccine War
The key actors of 'The Vaccine War' are Anupam Kher, Nana Patekar, Sapthami Gowda, and Pallavi Joshi. The film, produced by Pallavi Joshi and I Am Buddha, was released on September 28 in Hindi, Tamil, and Telugu. Certain segments of the film are about Indian bio-scientists and indigenous vaccinations. The video honours the commitment of the medical community and scientists during the uncertain periods of the Covid-19 epidemic.
Also Read: Pakistani actress Mahira Khan marries her boyfriend Salim Karim (Video)
The medical drama depicts the creation of the vaccine Covaxin during the Covid-19 epidemic in India. 'India's first bio-science film,' according to the trailer. It illustrates the hardships and accomplishments of the Indian scientific community in developing India's first Covid-19 vaccine.
Last Updated Oct 2, 2023, 9:13 AM IST