Chandramukhi 2: Kangana Ranaut hits out at trolls calling film a box-office disaster; Read
Kangana Ranaut defends Chandramukhi 2 against trolls, dismisses box office criticism, and questions the emphasis on monetary success in the film industry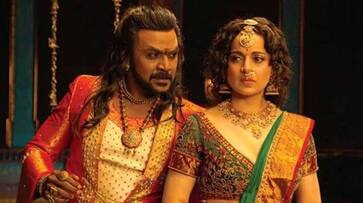 Kangana Ranaut has strongly responded to social media users and trolls who were discussing the box office collection of the film Chandramukhi 2, in which she played the lead role opposite Raghava Lawrence. Some users were critical of the limited information available about the film's box office performance and reached out to trade experts for their insights. One such tweet caught Kangana's attention, where a user asked trade analyst Taran Adarsh to update the box office collections for Chandramukhi 2 after giving it a high rating.
Kangana retorted, "Badi kasak hai aapke seene mein miya. Neend nahi aa rahi Chandramukhi ke baare mein soch rahe ho? Mujhse pooch lete ek minute mein tumhari kasak ko masal deti. Approx 40cr WW just in 3 days. So ja aab…" (You seem to be very eager. Can't sleep thinking about Chandramukhi? You should have asked me; I would have crushed your eagerness in a minute. Approx 40 crore worldwide in just 3 days. Now, go to sleep.)
ALSO READ: Scoop: Karishma Tanna nominated for Best lead actress in Hansal Mehta directorial for Busan Film Festival
In response to a user who claimed that Kangana was not revealing the full picture and called the film a 'disaster' with only 12 crore collections, Kangana replied, "Kyu? Tumko to net se matlab tha na? Net me sirf 12cr hua hai Disaster ho gyi hai film. Tumko south wale bhi troll kar rahe. Even south media is making fun of you. Shame left?? Aur karo boycott bollywood. Ek kahawat hai. 'Apne pair pe kulhadi' aur 'na ghar ke na ghaat ke'" (Why? Weren't you interested in the net collection? It only earned 12 crore net, so the film is a disaster. Even people from the South are trolling you. Even the South media is making fun of you. Any shame left? Go ahead, boycott Bollywood. There's a saying, 'Dig your own grave.')
Kangana responded with a snarky comment, "Achcah hai tumhare paas ghar aur ghat dono hai aab raho wahi pe" (It's good that you have both a home and a well; now you can stay there).
When a fan suggested she ignore the trolls, Kangana replied, "Thoda masti toh kar sakte hain na" (We can have a little fun, can't we?).
A user also compared her performance unfavorably to Lakshmi Menon's, to which Kangana responded, "I don't dispute that, does that mean I must go mute?? How random is that."
Kangana also criticized a report that called the film "The Vaccine War" a disaster. She questioned why some people write nasty things about films and whether success is solely defined by money. She emphasized that well-made films can be successful in their own right and that not all endeavors guarantee profits. She expressed her displeasure at people who seem to revel in negativity and wrote, "Writing obituaries? Shame on people like you. Someone like you who sits at home knows not even F of films how do you even muster the courage to be so nasty, cruel and judgmental?"
ALSO READ: Scoop: Karishma Tanna nominated for Best lead actress in Hansal Mehta directorial for Busan Film Festival
Chandramukhi 2 received positive reviews, and even Rajinikanth praised the film and its team in a heartfelt note. He congratulated director Shri. P. Vasu for taking the film in a new direction and praised Raghava Lawrence's performance, as well as the entire cast and crew.
Last Updated Oct 1, 2023, 1:33 PM IST