MNS using martyrs to attack Karan is an insult to nation, army
It is an insult to the Indian Army that thugs are using its name to advance their terror agenda.
Now the MNS wants to be called 'patriots' because they are brave enough to attack glass sheets.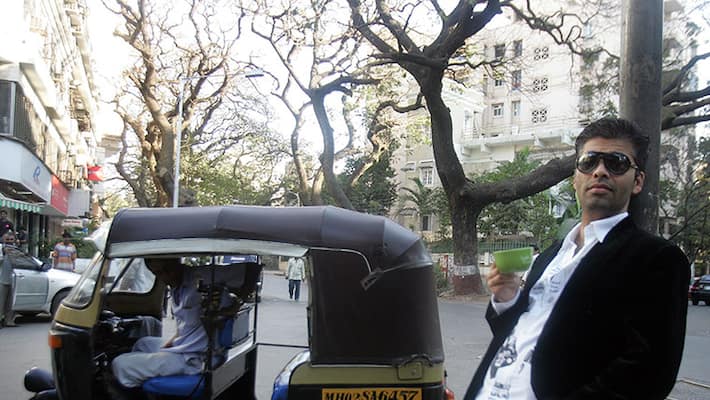 The Maharashtra Navnirman Sena has a name that is bigger than their political clout. The much shorter 'MNS' is more reflective of its electoral fortunes. And the MNS, in perhaps a last pathetic bid to remain relevant in a state that has overlooked them, is using the power of money-bought thugs to threaten a film director and some theatre owners. 
And they have the gall to label such actions as a 'tribute' to the army and as 'patriotism'. It is an insult to the Indian Army that criminals are using its name to advance their agenda and the nation should be ashamed that love for this great country is now little more than a way to get 'hafta' for some Marathi netas. 
It seems like a joke to ask Karan Johar to prove his loyalty. When it comes to soft power, he is half the reason why it is cool to love this country. Unlike the other 'gritty' directors, this one man seems convinced beyond belief (and sometimes beyond sanity) that India is an amazing place filled with families that love each other and lovers that love each other and dogs and parrots that love each other. As far as Karan is concerned, India is beautiful and everyone loves everyone in India - in flowing chiffon sarees and perfect suits. 
He definitely loves this country. But, more importantly for the MNS perhaps, he is wealthy and easy and soft. The same cannot, perhaps, be said of the Indian Navy. On August 14, 2013, the INS Sindhurakshak, a diesel submarine, exploded while it was being loaded, sinking and killing 18 sailors. The accident happened in Mumbai itself. But the MNS did not threaten to 'beat up' the Navy Chief for whatever lapses. Or perhaps the Navy Chief is well defended. How about the Russians, from whom we bought the sub in 1997? 
If Karan Johar is at fault for the Uri attacks, then the Russians are at fault for the death of those 18 sailors. 
The MNS' stand is not even a moral point since the film is not about Indo-Pak love either. It is a sappy love story starring a weeping Ranbir Kapoor and a brooding Fawad Khan. 
If the MNS is actually bothered about the Indian soldiers, why don't they set up trust funds for Indian soldiers or help around the house or literally do anything else? How, by any stretch of the imagination, does attacking Karan Johar prove anything?
And as if this was not enough, the plot 'sickens' even further. The MNS, which claims to be an Indian party, has made this statement - "We will oppose the screening of the movie everywhere in the state. If any multiplex operator dares to screen the film, they (operators) should remember that multiplexes are decorated with expensive glass sheets," MNS leader Amey Khopkar said.
Now these 'patriots' are threatening to attack Indian theatres and the Indians inside it over Pakistan. There aren't even any Pakistanis in the Indian theatres!
As an open question, it should be placed before the MNS that if they really feel they have much 'Desh-bhakti', why don't they travel to Pakistan and smash glass sheets there? Of course, they won't. They want to live on Indian soil, eat Indian food, get the protection of Indian laws, and attack Indians. 

The MNS should drop this nauseating pretence that it is doing any of this for the country. Claiming that is an insult to this country and a grave and unforgivable insult to the men and women who have given their blood for this nation. 

People have died for this country. And now the MNS wants to be called 'patriots' because they are brave enough to attack glass sheets. 

When will this unfunny joke end?
Last Updated Mar 31, 2018, 7:01 PM IST