Shah Rukh Khan to be given Y+ security cover; Is there a threat to his life? Here's what we know
Shah Rukh Khan receives upgraded Y+ security cover in Maharashtra due to perceived threats following the success of his films 'Jawan' and 'Pathaan,' with 11 security personnel assigned to him at his Mumbai residence. He will bear the security expenses, and the protection will continue pending further review. This move is reminiscent of a similar security upgrade for Salman Khan in 2022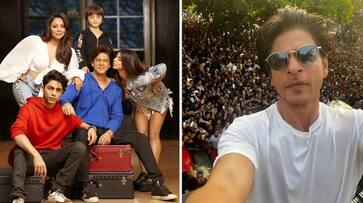 Shah Rukh Khan has delivered two consecutive blockbusters this year with "Jawan" and "Pathaan," and is reportedly receiving upgraded security measures due to potential threats. According to a report in the Indian Express, security agencies in Maharashtra have elevated Shah Rukh Khan's security level to Y+ category in response to perceived imminent and possible threats against the actor. While police sources in Mumbai have confirmed the enhanced security detail, they have refrained from disclosing the specific nature of the threats faced by SRK.
The report reveals that on October 5, the Maharashtra State Intelligence Department (SID) issued instructions to all police commissionerates, district police, and special protection units (SPUs) in the state to provide Y+ security with an escort for Shah Rukh Khan, effective immediately. The decision to grant this elevated security detail was made following a recent high-level committee meeting that reviewed threats and security concerns related to the actor.
Under this new security arrangement, Shah Rukh Khan will have 11 security personnel assigned to him, including six commandos, four police personnel, and a traffic clearance vehicle. These security personnel will be stationed at Shah Rukh's residence, Mannat, in Mumbai. Importantly, it has been clarified that the actor will bear the expenses for his enhanced security cover. The security provisions will remain in place until the next high-level committee recommendation and review committee decision.
It is noted that Shah Rukh Khan's Y+ security was granted in response to a perceived threat after the successful releases of his films "Jawan" and "Pathaan" this year. The notification issued by Dilip Sawant, special IGP, VIP security, reads, "In view of the recent imminent and probable threats to Shah Rukh Khan, cine actor, all unit commanders are requested to provide him Y+ security with an escort on a payment basis, with immediate effect, until the next high-level committee recommendation and review committee decision, during his visits, engagements, and stays in your jurisdiction to prevent any untoward incidents."
ALSO READ: ICC Cricket World Cup: Athiya Shetty beams with joy as 'Best Man' KL Rahul hits winning six against Australia
This decision to enhance Shah Rukh Khan's security comes after a similar move in November 2022 when Bollywood superstar Salman Khan's security cover was upgraded to Y+ category due to alleged threats from gangster Lawrence Bishnoi.
Last Updated Oct 9, 2023, 9:01 AM IST