Selena Gomez breaks silence on netizens reacting to her VIRAL VMA video
Selena Gomez and her candid audience reactions during the award ceremony, which became widely shared on social platforms, did not settle well with her. Taking to her official Instagram handle, Selena Gomez said she would never give an honest reaction to anyone after seeing VIRAL memes about her.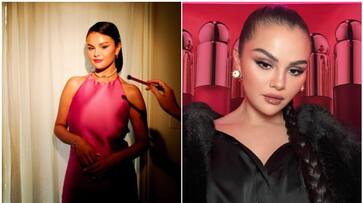 Selena Gomez attended the VMAs and became a meme material due to her funny expressions. Footage of Selena Gomez reacting to MTV VMA nomination of Chris Brown is going viral on X/Twitter. Selena Gomez won the award for Best Afrobeats at the event thanks to her feature on the smash summer bop of Rema, Calm Down. Meanwhile, Brown was nominated in the Best R&B category for his feature about How Does It Feel by Chloe but lost to Shirt by SZA. Selena Gomez won an award in the Best Afrobeats category. Her candid audience reactions during the award ceremony, which became widely shared on social platforms, did not sit well with her. She took to social media and expressed feelings about becoming an unintentional meme during the MTV VMAs.
ALSO READ: Sophie Turner spotted for 1st time after announcing separation with Joe Jonas
In 2009, Brown pleaded guilty to assaulting his ex-girlfriend and superstar Rihanna. He has since faced several further accusations of assault by ex-girlfriends and acquaintances, which he has denied.
For those unaware, former Love Island contestant Natalia Zoppa joined the 33-year-old on stage at the Manchester leg of his tour and got held by the neck by Brown for six seconds. The action prompted a backlash on social media, with domestic violence charity The Cassandra Centre responding to the video on Twitter. "This is so unpleasant to watch," they wrote. "Even the fact that she is on a stage with him does not stop her obvious discomfort – as she puts her hand up to his as it encircles her throat."
Selena Gomez's reactions at the VMAs became some of the most talked-about memes of the night. She took to Instagram to share her thoughts, saying, "I will never be a meme again. I'd rather sit still than be dragged for being myself. Much love."
Some of the moments that sparked memes include Selena Gomez's concerned reaction during Olivia Rodrigo's "planned" stage-destructed and pyrotechnic performance, her pose for photos during Demi Lovato's medley, and her expression when Chris Brown's name got announced during the ceremony.
ALSO READ: 'The Vaccine War': Vivek Ranjan Agnihotri says his film is dedicated to Indian Scientists
Last Updated Sep 14, 2023, 2:02 PM IST