Sophie Turner spotted for 1st time after announcing separation with Joe Jonas
Following the announcement of her separation from Joe Jonas, Sophie Turner was seen for the first time. The actress was observed lighting up a cigarette while filming for her next series Juan in Spain.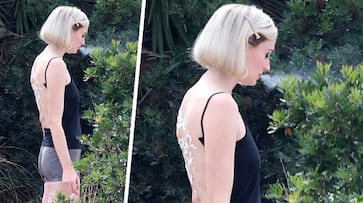 Four years after being married, Sophie Turner and Joe Jonas are on the verge of divorcing. On September 5, the singer, 34, filed for divorce from his wife of four years in Miami. In the midst of all, Sophie Turner has resumed her job. The "Game of Thrones" actress was spotted filming her upcoming drama series, "Joan," for ITVX. After she announced her split from singer Joe Jonas, she was finally spotted. Recently, Joe Jonas and Sophie Turner announced their split in a joint Instagram post. For the sake of their young daughter in particular, the two also voiced a wish for seclusion.
ALSO READ: An old clip of Akshay Kumar calling Shah Rukh Khan on fan's request goes VIRAL - WATCH
In the meantime, Sophie is filming in Spain for the upcoming movie "Joan," in which she portrays notorious jewel thief Joan Hannington. She may be seen having a little smoke break outside in the photos Page Six received. She sported a black tank top, a faux back tattoo, and a platinum blonde bob wig with curled ends. Additionally, she wore a lot of makeup.
In a joint statement posted on social media, the couple said: "After four incredibly lovely years of marriage, we have mutually chosen to end our marriage peacefully. Although there are numerous possible explanations, this is a unanimous decision. In addition, they underlined their need for privacy, particularly for the benefit of their little daughter, saying, "We sincerely hope that everyone can respect our wishes for privacy for us and our children."The couple stated that their decision was indeed shared and united and they begged their followers not to speculate or believe in any false stories. Additionally, they asked that their followers and the general public respect them and their kids by respecting their privacy right now.
ALSO READ: Aamir Khan's son Junaid Khan to star with Sai Pallavi? Read details
Last Updated Sep 14, 2023, 12:48 PM IST