'The Vaccine War': Vivek Ranjan Agnihotri says his film is dedicated to Indian Scientists
Filmmaker Vivek Ranjan Agnihotri says how The Vaccine War changed the mindset of the other scientists towards the Indian Scientists. The film will be released in Hindi, Tamil and Telugu on September 28 2023.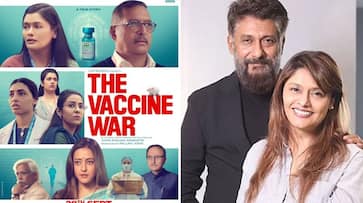 Vivek Ranjan Agnihotri is unquestionably the pioneer director of Indian cinema, noted for creating significant films and material that reflects society. Following the success of his last movie, The Vaccine War, the director is ready to investigate the struggle of Indian scientists behind the invention of vaccines in his upcoming film, The Vaccine War. The public has been anticipating the bio-scientist flick with bated breath. The film has been making waves internationally, with the creators holding a special showing in the United States, where it received a standing ovation. 
Following this, they released the trailer, which was well received. As the release date approached, Vivek Ranjan Agnihotri appeared and stated how the film changed the mindset of other organisations' scientists and how their perception of Indian scientists changed after watching it.
Continuing the same, Agnihotri said in an interview, "Scientists from other organizations and institutes came to see films and we have their interviews as well. Everybody said it is impossible how India did it. Nobody, even the top scientists don't believe. That is the advantage of being an Indian. That is the beauty of India - that when we are in crisis we go out of our way to achieve things."
The Vaccine War by Vivek Ranjan Agnihotri is devoted to Indian scientists and emphasises their attempts to develop the vaccine amid the crisis. During special screenings throughout the world, the film inspired many people, and its upcoming release in India will make the entire country proud. Vivek Ranjan Agnihotri is working tirelessly to promote the film in every part of the globe. Aside from screenings in other countries, the pioneer filmmaker debuted the first song, 'Shristhi se pehele,' in Times Square. The filmmakers are touring cities to promote the film.
The key characters of 'The Vaccine War' will be played by Anupam Kher, Nana Patekar, Sapthami Gowda, and Pallavi Joshi. The film, produced by Pallavi Joshi and I Am Buddha, will be released on September 28, 2023 in Hindi, Tamil, and Telugu.
Last Updated Sep 14, 2023, 12:44 PM IST