Rashmika Mandanna Deepfake video: Actress Sonnalli Seygall recounts personal experience with morphed images
Actress Sonnalli Seygall shared her own experience of image manipulation, emphasizing the fear and anger it evokes, calling for immediate action and awareness about the harmful impact on individuals and their families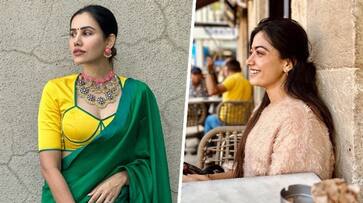 Actresses Rashmika Mandanna and Katrina Kaif recently found themselves as victims of malicious attackers who used Deepfake technology to create fake videos and images of them. This disturbing trend has raised concerns within the entertainment industry and among celebrities. Recently, actress Sonnalli Seygall shared her own experience of falling victim to image manipulation, shedding light on the terrifying and infuriating nature of such incidents.
In an interview Sonnalli Seygall recounted a distressing incident where her own photographs were manipulated and morphed by unknown individuals. She described this experience as "very scary," emphasizing the emotional toll it took on her and her family. Her mother, who initially did not comprehend the extent of the issue, was deeply affected and questioned her about the manipulated images. Sonnalli explained to her mother that these images were not real but rather digitally altered through the process of morphing.
Sonnalli Seygall expressed her fear and anger regarding these incidents, highlighting the violation of the law and ethics. She emphasized that such actions should not be normalized, as they are the work of anonymous individuals who hide behind their anonymity to commit these harmful acts.
The actress found it frustrating that many people tend to overlook such incidents, calling for a change in this attitude. She stressed the impact of image manipulation on parents, who often lack awareness about the complexities involved. This can lead to distress and confusion within families when they come across manipulated images of their loved ones.
Sonnalli Seygall also commented on the recent Deepfake video involving Rashmika Mandanna. She expressed her concern over the increasing realism and legality of these manipulated media. As a young woman, she felt vulnerable knowing that her personal information and photos were widely available on social media, leading to feelings of insecurity about the potential consequences due to the vast reach of the internet.
Last Updated Nov 8, 2023, 3:40 PM IST