Raghav Chadha, Parineeti Chopra wedding: Astrologer predicts marriage will be fruitful
Prior to the wedding of Parineeti Chopra and Raghav Chadha, Pandit Jagannath Guruji makes predictions about the future of the couple's personal and professional lives.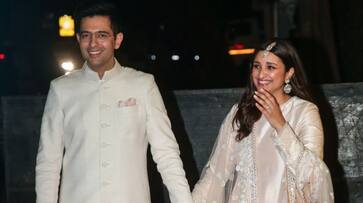 A fabulous time is approaching in the beautiful city of Udaipur. Raghav Chadha and Parineeti Chopra, two extraordinary individuals, will wed on September 24, 2023, beginning their journey of love and unity. Let's turn to astrology knowledge as we eagerly await this happy event, guided by Pandit Jagannath Guruji's views, to get a peek at the celestial forces that could influence their love stories and illuminate their career pathways. 
We are on a quest to understand the enigmas of their relationship and learn what the stars have in store for this unusual couple. Despite having different zodiac signs, Parineeti, a Libra, and Raghav, a Scorpio, share a strong post-marriage bond. Libras value harmony and justice and use diplomacy to maintain a balance in their relationships. Scorpios establish strong bonds because they are passionate and devoted. Despite having different perspectives, they support one another. While Scorpios' commitment offers security to Libras, Libras can benefit from Scorpios' charm to lessen their intensity. They can establish a harmonic connection where each person's special qualities enhance the other. These distinctive qualities that shape their relationship have the potential to make it beautiful and durable.
Following her marriage, Parineeti Chopra's career seems to remain stable. Jupiter's position and alignment in her birth chart are favourable, signalling a rise in self-assurance that will help her succeed in important tasks. Guruji advises her to concentrate more on the calibre of movie screenplays if she wants to succeed in the cutthroat Bollywood market. This concentration may aid her development into a great actress in the context of contemporary cinema.
The planetary influences of Jupiter and Pluto are favourable in Raghav's horoscope. These heavenly signals indicate that Raghav has a lot of political career options to explore, and in the days to come, we might see important changes. Raghav would be motivated to make successful efforts for the improvement of the country by his commitment and unflinching desire. He might end up being remembered as one of the most notable and influential presidents in the nation's history as time goes on.
Last Updated Sep 23, 2023, 9:41 AM IST