Puratawn: Sharmila Tagore to share screen with Rituparna Sengupta in film; see details
After 14 years, Sharmila Tagore is prepared to return to Bengali cinema. She will collaborate on Suman Ghosh's "Puratawn" with Rituparna Sengupta.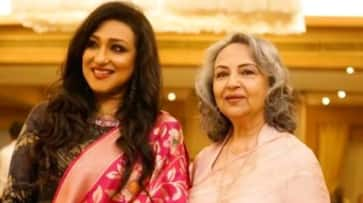 SHARMILA TAGORE AND RITUPARNA SENGUPTA TO SHARE THE SCREEN.
After 14 years, Sharmila Tagore is prepared to return to Bengali cinema. The actress, who just made her big-screen acting debut with Manoj Bajpayee in "Gulmohar," gave "Puratawn" by Suman Ghosh a thumbs-up. Rituparna Sengupta, a superstar in Bengal, will also appear in the movie. Tagore and Rituparna Sengupta play the mother and daughter, respectively, in an emotional mother-daughter tale, with Indraneil Sengupta portraying the son-in-law. The movie is being produced by Rituparna's production company, Bhavna Aaj O Kal.
ALSO READ: Kareena Kapoor opens up on Taimur's name controversy; was baffled at the media trial
In Aniruddha Roy Chowdhury's Bengali film "Antaheen," which also starred Radhika Apte and Rahul Bose, Sharmila Tagore made her last screen appearance. Indraneil and Rituparna previously worked together on a movie directed by Indrasis Acharya. The present production of "Kabuliwala," starring Mithun Chakraborty, Abir Chatterjee, and Sohini Sarkar, is being overseen by director Suman Ghosh. "I may not have been acting, but I was speaking about cinema on different forums. You don't have to be at the pinnacle of your career – but at every stage, if you can speak up and make your presence felt, that's what makes the difference," she told the press.
ALSO READ: Naseeruddin Shah bashes Sunny Deol's 'Gadar 2' for regressive storyline; takes sly dig - READ
Last Updated Sep 12, 2023, 4:25 PM IST