In pics and videos: Priyanka Chopra's Zimbabwe trip was surely fruitful
Priyanka Chopra taught Bollywood dance to African children
PeeCee has been posting several pictures and videos from her Zimbabwe tour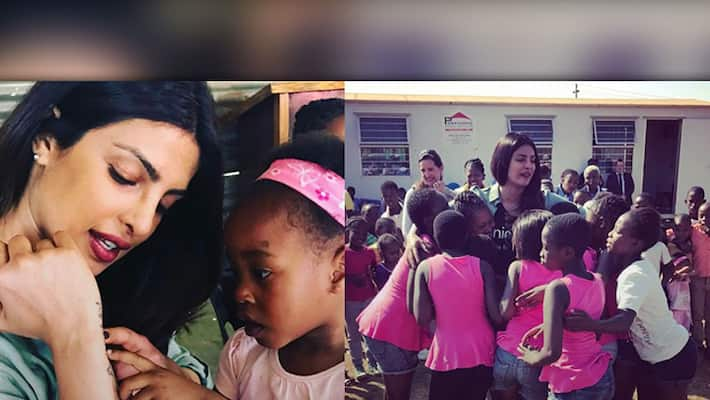 Priyanka Chopra has been assigned the role of being UNICEF's Goodwill Ambassador, and she is taking her newfound responsibilities quite seriously. Priyanka, 34, served as a UNICEF National Ambassador in India for nearly ten years. 
The actress flew down to Johannesburg and Zimbabwe to help create awareness regarding violence against children as a part of the organisation's campaign. 
During the weekend, she spent a day with the kids in an area prominently known as Safe Park. There, the diva got completely engrossed in playing with the kids and learning more about their lifestyle. 
She was totally in awe of individuals who take care of the kids, and made it quite evident in her Instagram post. Priyanka has been posting several pictures and videos from her tour where she is meeting young children who have faced abuse in their childhood.
The vice chairman of the park is an 11-year old called Mbali, who took Priyanka around. She posted, "Mbali showed me around this amazing Safe Park that gives kids a chance to be kids in a safe environment. She is the Vice Chairman of her park (Freedom Park.) At all of 11! She takes her responsibilities very seriously. Thank u Mbali." Her day with the kids ended with a big group hug. You can check out all the happenings of her trip right above!
PeeCee has also shared some heartwarming stories about these kids via her Insta posts. In one of her videos, Priyanka is seen seated, surrounding by a group of children who are praising her long, straight hair. And Priyanka is quite amused with all the attention. Check out the interesting conversation Priyanka has with these kids.
In another video, kids around her are playing and want the 34-year-old actor to join them. However, here's the catch. To come down from the swing, the kids were using a pole and Priyanka is scared and really could be seen how scared was the actor in the video she has shared. "Hahahah I really was scared! Lol! No pole dancing for me!," writes Priyanka.
Through her Insta stories, Priyanka has been sharing about how kids and teenagers of the village have been subjected to violence and how teams have been formed to keep the girl child and women safe. Priyanka says the entire journey to Africa has moved her and changed her from within.
Last Updated Mar 31, 2018, 6:59 PM IST