Netizens slam Ram Gopal Varma for his weird toe-sucking tweet for SS Rajamouli, call him 'double meaning'
The netizens and internet has bursted into laughter club as Ram Gopal Varma is getting slammed for his weird toe-sucking tweet aimed at RRR filmmaker SS Rajamouli.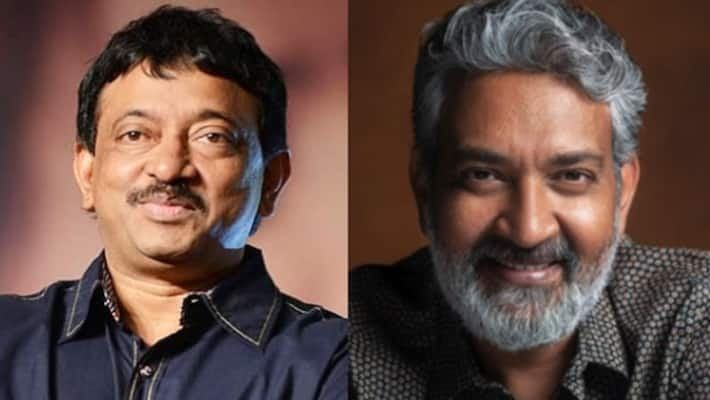 Ram Gopal Varma is an 'OG Twitterati'. His tweets are either in a pool of controversy. Sometimes he becomes a laughing stock itself to netizens. After licking actress Ashu Reddy feet recently, it is SS Rajamouli, the director of RRR, whose toe is the Bhoot filmmaker's next fetish to fulfill. Through a series of tweets, RGV applauded SS Rajamouli for his win, but he added his flavors in it.
Ram Gopal Varma retweeted RRR director SS Rajamouli video of his interaction with James Cameron. Applauding the director for creating a new global record with RRR, RGV hailed Rajamouli. His tweet read, "From Dada Sahab Phalke onwards till now, no one in the history of Indian cinema, including @ssrajamouli, could have imagined that an Indian director someday, will go through this moment."
ALSO READ: Kylie Jenner gets criticise by PETA, Netizens for flaunting realistic lion head gown at Schiaparelli show
In another tweet, he wrote, "Hey @ssrajamouli U basically SURPASSED every filmmaker from #KaAsif who made #MughaleAzam till #RameshSippy who made #Sholay and also the likes of Aditya Chopras, Karan Johars and the bhansalis of India and I want to suck ur little toe for that."
On this tweet, many fans slammed him for his weird foot fetish tweet. "Wanna Suck his little toe all double meaning rgv garu," said a fan. "If this was after five pegs, ending would have been different," a fan shared. "All was good, but then he said Toe things," slammed another fan. "U surely hv toe fetish," a fan ranted.
ALSO READ: Pathaan: Shah Rukh, Deepika Padukone's film shocking advance booking update; 1 million tickets sold- report
Last Updated Jan 24, 2023, 4:08 PM IST