Navratri 2023 Day 8: Details on Ma Mahagauri and Puja Significance
Navratri Day 8 celebrates Ma Mahagauri, the 8th form of Goddess Durga, symbolizing purity and peace. Devotees worship her with white attire, offerings, and prayers for inner serenity and purification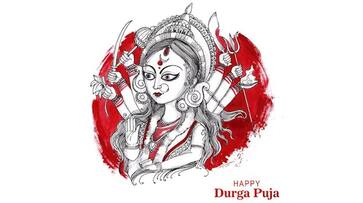 Navratri is a Hindu festival that spans nine nights and is dedicated to the worship of the goddess Durga and her various forms. Each day of Navratri is associated with a different form of the goddess, and on the eighth day, the goddess Mahagauri is revered. Here are some details about Ma Mahagauri and the significance of her worship on the eighth day of Navratri:
Ma Mahagauri: Ma Mahagauri is the eighth form of Goddess Durga and is often depicted as a beautiful young woman. "Maha" means great, and "Gauri" refers to the fair complexion of the goddess. She is known for her purity and grace. Ma Mahagauri is usually depicted wearing white or light-colored attire, symbolizing her pristine nature. In her four hands, she holds a trishul (trident) and a damaru (drum), while her other two hands are in the abhaya (fearlessness) and varada (blessing) mudras.
ALSO READ: Navratri 2023 Day 7: Details on Goddess Kalratri and Puja Significance
Puja Significance: The eighth day of Navratri, dedicated to Ma Mahagauri, is believed to bestow blessings of peace, serenity, and purity upon her devotees. Worshipping her is thought to cleanse the mind and spirit, removing impurities and negativity. Devotees seek her blessings to attain a state of inner peace and harmony. It is also believed that the worship of Ma Mahagauri can remove the sins and the karmic baggage of the worshipper.
Puja Rituals:
Bathe the idol: Devotees bathe the idol of Ma Mahagauri with milk, water, and offer white flowers, particularly jasmine, as it is considered her favorite.

White attire: It is customary for the devotees to wear white clothes while worshipping Ma Mahagauri.

Mantra and bhajans: Chanting of mantras and singing bhajans dedicated to Ma Mahagauri is an essential part of the worship.

Offerings: Offerings of sweets, coconut, and other white-colored items are made to the goddess.

Meditation and prayers: Devotees meditate upon Ma Mahagauri, seeking her blessings for purity of mind and soul.

Aarti: The Aarti (a ritual of waving a lamp in front of the deity) is performed to conclude the puja, and prasad is distributed among the devotees.
As with all forms of Durga, the worship of Ma Mahagauri on the eighth day of Navratri represents the victory of good over evil and the ultimate triumph of divine power over the forces of darkness. It is a time for devotees to seek the goddess's grace and blessings for a peaceful and pure life.
Last Updated Oct 22, 2023, 11:29 AM IST