Navratri 2023 Day 7: Details on Goddess Kalratri and Puja Significance
Navratri 2023 Day 7 is dedicated to Goddess Kalratri, a fierce form of Devi Durga. Worshipped for courage and protection, her dark complexion symbolizes the destruction of darkness and ignorance. Devotees offer prayers, mantras, and blue-themed offerings, seeking her strength and blessings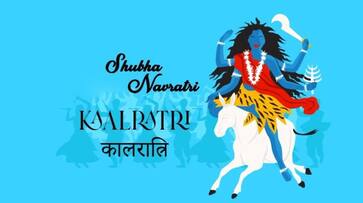 Navratri is a Hindu festival that spans nine nights and is dedicated to the worship of the Divine Mother, also known as Devi or Shakti. Each of the nine nights is associated with a different form or manifestation of the goddess. Navratri 2023 Day 7 is dedicated to the worship of Goddess Kalratri, who is the seventh form of Devi Durga.
Goddess Kalratri: Goddess Kalratri is often depicted with a dark complexion, disheveled hair, a fierce expression, and a fearless posture. She is a symbol of courage and protection. The name "Kalratri" is derived from two words: "Kala," which means time, and "Ratri," which means night. She is also known as Kali, Maha Kali, and Mahakali.
Significance of Goddess Kalratri: Goddess Kalratri is the destroyer of ignorance and darkness. She is the embodiment of the destructive and protective aspect of the Divine Mother. Worshipping her is believed to destroy all negative energies, evil forces, and ignorance within us. She is also the one who eliminates the darkness of our fears and doubts.
Devotees seek her blessings to overcome obstacles and fears in life. Her divine energy is considered immensely powerful, and her worship is believed to provide strength, courage, and protection to her devotees.
Puja Rituals for Goddess Kalratri on Day 7 of Navratri:
Goddess Kalratri's Color: The color associated with Goddess Kalratri is royal blue. Devotees often dress in blue attire or decorate the altar and idols with blue-colored items.

Offerings: Offerings to the goddess typically include hibiscus flowers, sweets, and fruits.

Mantra: Chanting the following mantra is considered auspicious on this day:

"ॐ देवी कालरात्र्यै नमः॥" (Om Devi Kalratryai Namah)

Prayer and Meditation: Devotees engage in deep prayer and meditation, seeking the blessings of Goddess Kalratri for strength and courage in their lives.

Aarti: Conclude the puja with the singing of Aarti to honor and thank the goddess.
Last Updated Oct 21, 2023, 7:30 AM IST