Meet Ambani's pet dog; who was ringbearer at Anant Ambani-Radhika merchant's engagement (Video)
Ambani's pet dog, a Golden Retriever, enters as Ring Bearer at Anant Ambani and Radhika Merchant's engagement, Watch Dance Video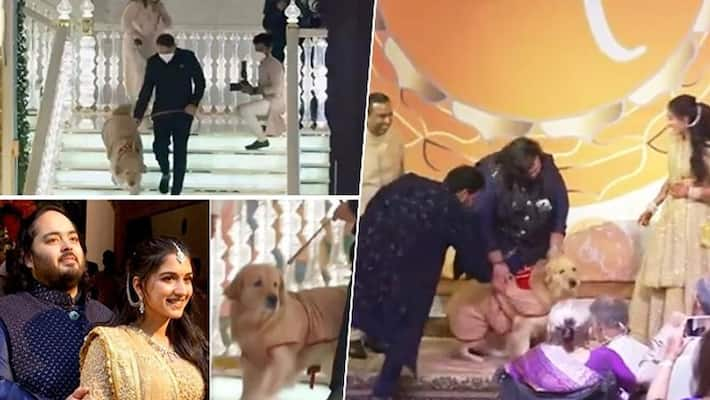 Anant Ambani and Radhika Merchant exchanged vows at Antilia in Mumbai. Anant Ambani, Anil and Nita Ambani's youngest son, married Radhika Merchant, the daughter of entrepreneur Viren Merchant, at a traditional wedding in Antilia. 
The Ambanis, along with their close friends and family, were there for the big ceremony of Gol Dhana and Chunari Vidhi. In addition to the ceremonies, the family members performed a surprise dance routine, headed by Nita Ambani and Mukesh Ambani. 
Also Read: Anant Ambani and Radhika Merchant get engaged (PHOTOS)
Anant Ambani's older sister Isha Ambani Piramal announced the surprise. "It seems we have a missing ring, but I think we have a surprise ringbearer. Can we please have our ringbearer come up," said Isha as her brother and Radhika Merchant waited on stage.
The camera captured a staffer bringing the family's beloved dog. With the ring tied around its neck with a bright red ribbon, the dog dashed to the platform, where Anant, assisted by brother Akash Ambani, removed the ring.
Anant and Radhika married in a traditional Gujarati wedding that included classic Gujarati rites. Gol Dhana is a tradition in which the bride's family delivers jaggery and coriander seeds to the groom's family. The bride's family then arrives to the groom's house with presents and sweets, and the pair subsequently exchanges rings.
Yesterday night's Antilia event was attended by Bollywood heavyweights such as Shah Rukh Khan, Aishwarya Rai Bachchan, Salman Khan, Ranveer Singh, Deepika Padukone, and others.
Who is Radhika Merchant?
Radhika is the daughter of Viren Merchant, the CEO of Encore Healthcare. Radhika completed her classical dancing training in June, and the Ambani family celebrated with a magnificent Arangetram event.
Anant Ambani attended Brown University in the United States and has subsequently worked for Reliance Industries in various positions, including serving on the boards of Jio Platforms and Reliance Retail Ventures. He is in charge of Reliance Industries' energy division.
Last Updated Jan 20, 2023, 12:38 PM IST