Matthew Perry aka Chandler Bing dies at 54: Selma Blair, Paget Brewster and more celebs mourn 'Friends' star
Hollywood star Matthew Perry, best known for playing Chandler Bing on popular sitcom Friends, was found dead at a Los Angeles-area home on Saturday (Oct 28), according to reports. The 54-year-old was found dead in a hot tub at his home in Los Angeles.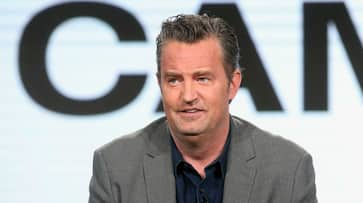 Matthew Perry, well known for his role in the TV show 'Friends,' was discovered dead in a hot tub at his Los Angeles home on Saturday, according to the LA Times, citing law enforcement authorities familiar with the situation. He was 54. According to the article, the Los Angeles Police Department's robbery-homicide investigators are looking into the tragedy.
Perry had arrived home to Los Angeles after a two-hour pickleball session and dispatched his assistant on an errand. According to TMZ, the assistant returned after around two hours and discovered Perry lifeless in the Jacuzzi. He called 911 for help in an emergency.
According to reports, no narcotics were recovered at the location, and there is no evidence of foul play. Officer Drake Madison of the Los Angeles Police Department told the Associated Press that officers had gone to that area "for a death investigation of a male in his 50s."
The circumstances surrounding his demise have shocked admirers.
Also Read: 'Friends' star Matthew Perry found dead in hot tub at Los Angeles residence
Who was Matthew Perry?
Matthew Perry rose to prominence as Chandler Bing on the television show "Friends." Perry's depiction of the snarky and charming Chandler earned him a household celebrity throughout the show's run, which lasted from 1994 to 2004. During the show's run, he received critical praise and multiple award nominations for his portrayal.
He was highly praised for his performance as Ron Clark in "The Ron Clark Story," which helped establish him as a versatile performer in both television and cinema. He also had a great stage career, appearing in plays such as "The End of Longing." He has worked as a writer and producer on many projects in addition to performing.
Mattew was reared by his mother in Ottawa after his parents split when he was a year old. He was born to John Bennett Perry, an actor, and Suzanne Morrison, a Canadian journalist. He went to Ashbury College and then The Buckley School in Sherman Oaks, California.
Matthew Perry had been upfront about his drug difficulties, notably during his time on "Friends." He got therapy for his drug misuse troubles later in life and became an advocate for addiction recovery and mental health awareness.
Matthew Perry's memoir
"'Friends' was huge. I couldn't jeopardize that. I loved the script. I loved my co-actors. I loved the scripts. I loved everything about the show but I was struggling with my addictions which only added to my sense of shame," Matthew wrote in his memoir, "Friends, Lovers and the Big Terrible Thing." "I had a secret and no one could know."
"I felt like I was gonna die if the live audience didn't laugh, and that's not healthy for sure. But I could sometimes say a line and the audience wouldn't laugh, and I would sweat and sometimes go into convulsions," Perry also wrote. "If I didn't get the laugh I was supposed to get I would freak out. I felt that every single night. This pressure left me in a bad place. I also knew of the six people making that show, only one of them was sick."
Also Read: 'The Woman in Me': Andy Cohen reveals 'unsettling' 2013 interview with pop queen Britney Spears
He claimed to have gone through detox 65 times and spent $9 million to become sober. Perry dedicated the book to "all of the sufferers out there," writing in the introduction, "I should be dead." 
Many sentiments and messages on social media on Saturday referred to Perry as the centre of the comedy of "Friends." Variety's chief correspondent Daniel D'Addario wrote in a tribute, "the character's caustic wit, as performed by a master comic actor, presented as nothing more and nothing less than observational humour about his friends: One degree harsher and it would have tanked the show, one degree softer and it wouldn't have landed."
"I'm so very sad to hear about @MatthewPerry. He was lovely to me on Friends and every time I saw him in the decades after," wrote Paget Brewster, who worked with him. "Please read his book. It was his legacy to help. He won't rest in peace though.. He's already too busy making everyone laugh up there."
"My oldest boy friend. All of us loved Matthew Perry, and I did especially. Every day," wrote Selma Blair on Instagram. "I loved him unconditionally. And he me. And I'm broken. Broken hearted. Sweet dreams Matty. Sweet dreams."
"Oh no!!! Matthew Perry!! You sweet, troubled soul!!" wrote Mira Sorvino, who starred with Perry in the 1994 TV movie "Parallel Lives," on X, formerly known as Twitter. "May you find peace and happiness in Heaven, making everyone laugh with your singular wit!!!"
"Our #OddCouple family suffered a great loss today," posted Yvette Nicole Brown, who played Dani in the CBS series that starred Perry as Oscar. 
"The entire entertainment world has. I am too sad about the news to say more than this: @mattyperry4 was a sweetheart who deserved more peace in this life. 54 is too young to go. We love you, Matty! #RIPMatthewPerry"
Meredith Salenger, who starred in "A Night in the Life of Jimmy Reardon" with Perry, wrote that she has known Perry since they were both 16, and shared four photos of them together. "Oh man. No words. Rest in peace sweet @MatthewPerry," she said.
"Awful news. RIP brother," posted Josh Charles, who worked with Perry on "The Good Wife."
Last Updated Oct 29, 2023, 8:36 AM IST