'Friends' star Matthew Perry found dead in hot tub at Los Angeles residence
The Los Angeles Police Department is investigating the incident, which occurred after Perry returned from a pickleball game and was discovered unresponsive in the Jacuzzi by his assistant. No drugs were found at the scene, and there is no evidence of foul play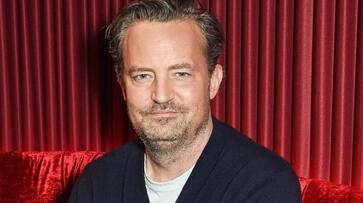 Matthew Perry, best known for his role in the TV series 'Friends,' was discovered deceased in a hot tub at his Los Angeles residence on a Saturday, according to law enforcement officials cited by the LA Times. He was 54 years old. The Los Angeles Police Department's robbery-homicide detectives are currently conducting an investigation into his death, as per the report.
After engaging in a two-hour game of pickleball, Perry returned to his LA home and dispatched his assistant on an errand. The assistant returned approximately two hours later, only to find Perry unresponsive in the Jacuzzi, as reported by TMZ. Emergency assistance was immediately summoned by dialing 911.
Reports suggest that no drugs were found at the scene, and there are no signs of foul play.
LAPD Officer Drake Madison told the Associated Press that officers responded to a "death investigation of a male in his 50s" at that location.
The circumstances surrounding his passing have left fans in disbelief.
Matthew Perry gained fame for his iconic portrayal of Chandler Bing on the beloved television series "Friends," which aired from 1994 to 2004 and achieved cult status. His portrayal of the witty and endearing Chandler made him a household name, earning critical acclaim and numerous award nominations during the show's run.
Perry also received praise for his role as Ron Clark in "The Ron Clark Story," showcasing his versatility in both television and film. He had a successful theater career, including appearances in plays like "The End of Longing." In addition to his acting, he ventured into writing and production for various projects.
Born to John Bennett Perry, an actor, and Suzanne Morrison, a Canadian journalist, Matthew was raised by his mother in Ottawa following his parents' divorce when he was an infant. He attended Ashbury College and later studied at The Buckley School in Sherman Oaks, California.
Matthew Perry had been candid about his battles with addiction, particularly during his time on "Friends." He later sought treatment for substance abuse issues and became an advocate for addiction recovery and mental health awareness.
"Friends" brought immense pressure, as Perry revealed, saying, "I felt like I was gonna die if the live audience didn't laugh, and that's not healthy for sure." He detailed the struggles and detox experiences he went through, spending a substantial amount to achieve sobriety.
Perry dedicated his memoir, "Friends, Lovers and the Big Terrible Thing," to "all of the sufferers out there" and noted in the prologue: "I should be dead."
Last Updated Oct 29, 2023, 8:21 AM IST