Madhuri Dixit was on verge of quitting film with Amitabh Bachchan as she was asked to wear bra on screen
The disagreement that Tinnu Anand had with Madhuri Dixit over her attire for an Amitabh Bachchan movie was made public.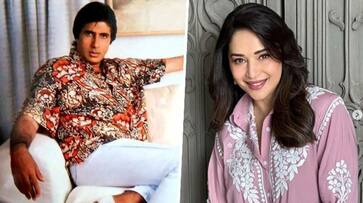 Amitabh Bachchan and Madhuri Dixit were formerly cast in Innu Anand's 1989 film Shanakht. Innu Anand has previously collaborated with the megastar on hit films like Kaalia and Shahenshah. In a recent interview, Tinnu disclosed that on the first day of filming, he and Madhuri got into a contentious dispute over her wardrobe to the point where he nearly let her go from the project. Tinnu described the incident in which the villain chained Amitabh in a conversation with Radio Nasha. "He is attempting to defend Madhuri, but these thugs overwhelm him. When a woman is in front of you, why are you hitting a man in shackles, Madhuri's character asks," Tinnu said.
ALSO READ: "Bramayugam" first look: Grey beard with stained teeth; Mammootty in a hero or villain role?
Before signing Madhuri for the film, Tinnu allegedly told her the entire scenario. "I told her that you need to take off your blouse so that we may see you for the first time in your bra. And I won't try to hide anything, not even behind a haystack. because you are extending an offer to assist a man who is attempting to assist you. Therefore, it is a crucial situation that I want to film on the first day. The actor-director alleged, "She said okay.
Then Tinnu recalled that Madhuri had declined to act in the scene on the day of the shoot. "I queried what occurred. 'Tinnu, I don't want to do this specific scenario,' she added. I apologised and added, "You must perform this scene." 'No, I don't want to,' she replied. I commanded, "Okay, pack up, and bid the movie farewell." I'll postpone my shot. Amitabh afterwards made an effort to calm things down. "Let it be, why are you arguing with her, he said. If she raises a concern... "I told her, 'If she had to object, she should have done it earlier, before signing the film,'" he recalled. Later on, though, Madhuri's secretary entered the room and gave Tinnu the reassurance that the actress would perform the sequence.
ALSO READ: Singer Joe Jonas spends quality time with daughters after filing divorce from Sophie Turner
Last Updated Sep 7, 2023, 2:07 PM IST