Koffee With Karan 8: What type of girlfriend is Ananya Panday to rumoured boyfriend Aditya Roy Kapur
Ananya Panday's candid and humorous revelations about her love life, including her rumored relationship with Aditya Roy Kapur, on Koffee with Karan Season 8. She describes herself as a girlfriend using movie titles and highlights the challenges of privacy in relationships with other actors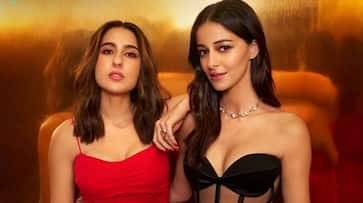 Ananya Panday brought a refreshing blend of candor and humor to the latest episode of Koffee with Karan Season 8, where she shared intriguing insights into her personal life, including her love life. The actress has been at the center of rumors regarding her alleged relationship with Aditya Roy Kapur, and while the couple has remained tight-lipped about their romance, their frequent public outings and vacations have only added fuel to the speculations among their fans.
Ananya's appearance on the show's third episode provided fans with a glimpse into her personal life, as she responded to a playful question from host Karan Johar, who asked her to describe herself as a girlfriend using a movie title. Ananya's quick-witted response was, "I think it depends on the day. Some days it's Ek Thi Daayan, and some days it's Dream Girl. It's mostly Ek Thi Daayan."
When it came to the much-anticipated question about her relationship with Aditya Roy Kapur, Ananya responded with a cheeky grin, "I'm feeling very Ananya Coy Kapur to answer that question," leaving fans even more intrigued.
In a rapid-fire round, Karan Johar also probed Ananya about the most challenging aspect of being in a relationship with another actor. Ananya candidly revealed that privacy becomes a significant challenge in such relationships. She expressed the difficulty of navigating a relationship with constant conjecture and numerous conversations that often "come in the way."
ALSO READ: Koffee With Karan 8: Sara Ali Khan, Ananya Panday spill the beans on Karan Johar's 'Koffee Kouch'
In a fun game on the show, Ananya openly shared that she should be rated 100% on being a possessive partner, emphasizing her strong inclination towards possessiveness in relationships.
ALSO READ: Did you know Priyanka Chopra attended Naseeruddin Shah's acting classes for her role in '7 Khoon Maaf'?
For fans eager to catch up on all the latest episodes of Koffee with Karan Season 8, they can be streamed on Disney+ Hotstar.
Last Updated Nov 9, 2023, 11:57 AM IST