Koffee With Karan 8: Sara Ali Khan, Ananya Panday spill the beans on Karan Johar's 'Koffee Kouch'
Sara Ali Khan and Ananya Panday share spicy revelations on Koffee with Karan Season 8, including past relationships, career advice, dating rumors, fashion choices, and playful threats, offering candid insights into their personal lives and friendships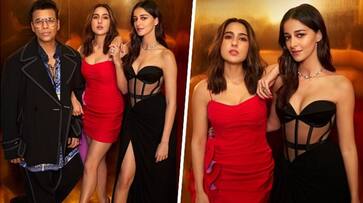 Koffee with Karan has returned with its eighth season, delighting viewers with candid conversations and surprising revelations. In a recent episode, the spotlight was on Bollywood's talented young actresses, Sara Ali Khan and Ananya Panday. Their chat was filled with entertaining and occasionally eyebrow-raising revelations about their personal and professional lives. Here are six intriguing disclosures from the episode:
1. Past Relationships with Kartik Aaryan The conversation got interesting when the director of "Kuch Kuch Hota Hai," Karan Johar, brought up their past relationships with Kartik Aaryan. Both Sara Ali Khan and Ananya Panday openly discussed how they maintain comfortable relationships with someone they both had dated. Sara candidly mentioned that it's not easy, but in the industry, there are no permanent friendships or rivalries. This hints at their previous connections with Kartik Aaryan.
2. Advice on 'Liger' from Karan Johar and Ananya's Mother Ananya Panday revealed that it was Karan Johar and her mother, Bhavana Pandey, who encouraged her to sign the 2022 film "Liger" opposite Vijay Deverakonda. Despite the movie's disappointing performance at the box office and her relatively unnoticed role, Ananya appreciated the guidance.
3. Clearing the Air on Dating Rumors Sara Ali Khan addressed the recent rumors about her supposed relationship with cricketer Shubman Gill. She set the record straight, clarifying that it's all been a misunderstanding. According to the "Zara Hatke Zara Bachke" actress, there has been no romantic involvement with Shubman. Their interactions have been limited to running into each other at a few social gatherings – nothing more.
4. Sara's Fashion Choices and Relatability Host Karan Johar brought up Sara's unique fashion choices and asked if her preference for simplicity, even at the airport, was a conscious effort to stay relatable or simply her being herself. Sara confessed to owning designer bags and shoes but found the idea of wearing designer clothes a bit absurd. She explained that her choices weren't about appearing relatable but acknowledged the importance of perception due to her social media following. Sara emphasized the need to strike a balance between not seeming lazy and staying true to herself.
5. Playful Threat from Sara Ali Khan Ananya Panday shared a humorous incident during the show, shedding light on her friendship with Sara. She revealed that the "Simmba" actress once playfully threatened her, telling her not to pursue someone she liked. In reality, Ananya wasn't even interested in that person. However, Sara's playful threat did have an impact, and Ananya refrained from showing any interest in the mentioned individual.
ALSO READ: Did you know Priyanka Chopra attended Naseeruddin Shah's acting classes for her role in '7 Khoon Maaf'?
6. Candid Conversations and Advice Sara Ali Khan often seeks advice from her friend Ananya Panday, especially when it comes to knowing what to say and what to avoid. Their chats are candid and unfiltered, sometimes evolving into informal family discussions, with Sara's mom, Amrita Singh, and her brother, Ibrahim Ali Khan, joining in.
Last Updated Nov 9, 2023, 11:20 AM IST