KGF review: Yash rocks; KGF wins hearts
Bengaluru: Set in 1970s when a new empire was being built secretly after gold is found in the region, a boy comes to the limelight. Whether he finds the gold or gold finds him and is he the villain or a messiah of freedom forms the crux of the story.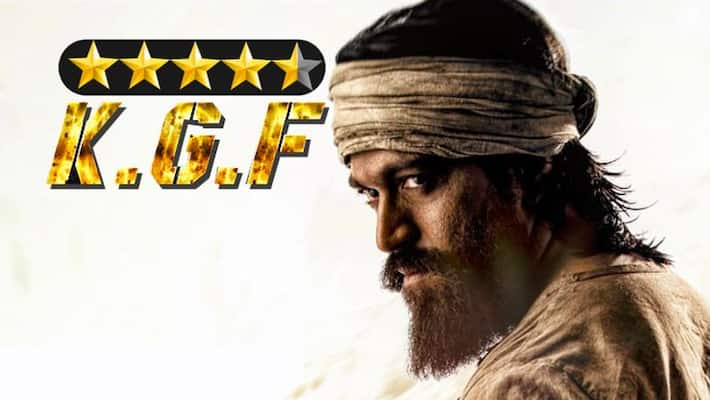 Bengaluru: Set in 1970s when a new empire was being built secretly after gold is found in the region, a boy backed by his mother, who becomes his ultimate strength even in her absence, KGF rocks. Yash as Rocky is the main attraction of the movie.
A boy abandoned after his mother's death goes in search of power to Mumbai. Every time he attains a feat, he feels that he needs more. He toils smartly and reaches a point where nothing in the world of smuggling in Mumbai moves without his notice, especially the boxes carrying gold.
The man who is a step away from being the sultan of Mumbai gets an assignment in Bangalore and that changes his life forever. He finds the boxes of gold supposed to come from Africa to Mumbai in Bangalore. This distracts him from a mere murder and he looks for something bigger and ends up at a place that is a den of darkness with a properly sealed exit door.
Will the villain Rocky transform and become the messiah of thousands of people or does he become a monster and wins the empire forms the climax of KGF.
But believe us the end of chapter 1 will make you wait for the conclusion more than one has waited for second part of Baahubali.
The screenplay, execution and direction by Prashanth Neel are the highlights of the movie. From cinematography by Bhuvan Gowda to the music by Ravi Basrur there are hardly any loopholes to pick. The punch dialogues by director Prashanth, writers Chandramouli M and Vinay Shivangi were purely situational and touched the hearts of people.
Four songs are situational and earned plenty of whistles from the audience. A must mention is Yash's subtle performance. He lives the character and proves that he is really the 'Rocking Star'.
Though the heroine's role is not much in chapter 1, Shrinidhi Shetty as Reena is stylish and powerful. Villains with unkempt beards make their appearance darker and villains without beard like Achyut Kumar come to prime in their roles and more of their involvement will be revealed in KGF - chapter 2.
The item song 'joke naanu valluta minchu' did not impress as claimed earlier.  Apart from this perhaps the ploy to stall the release of the movie did not work for those who had planted it. But that too worked very well for the film as this created more hype.
KGF is surely a gold mine we advise you not to miss it.
Rating: 4.5 out of 5.
Last Updated Dec 21, 2018, 2:05 PM IST