Kangana Ranaut slams Karan Johar once again over Brahmastra box office collection
Actor Kangana Ranaut has once again blasted filmmaker Karan Johar over the box office collections of 'Brahmastra Part One: Shiva'. Helmed by Ayan Mukerji and starring actors Ranbir Kapoor and Alia Bhatt in the lead roles, the film has been in the midst of controversies over its collections at the ticket window.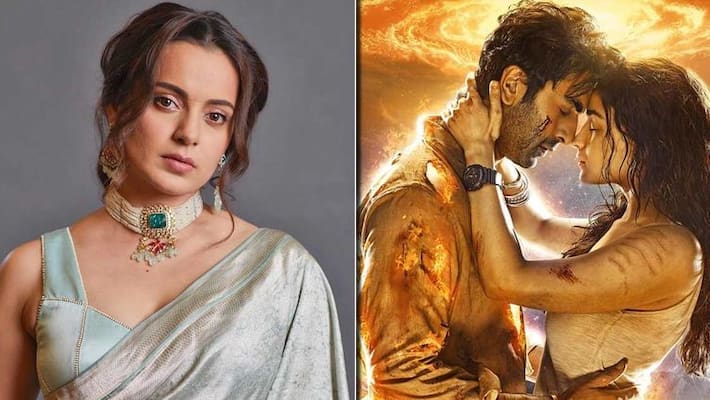 Kangana Ranaut has once again hit out at 'Brahmastra Part One: Shiva' over its box office numbers. Kangana, who has been questioning Ayan Mukerji's film since the time the opening day collections were revealed, shared 'The Kashmir Files' filmmaker Vivek Agnihotri's tweet on 'Brahmastra'. Sharing the tweet, she criticised Karan Johar, saying that going by his 'model', no film will ever flop.
Kangana Ranaut further spoke about 'Brahmastra Part One: Shiva', a film backed by Karan Johar's Dharma Productions. Kangana's post comes in a day after Vivek Agnihotri's tweet regarding reports that said Ayan Mukerji's film had 'beaten' 'The Kashmir Files' at the box office.
ALSO READ: 'Maroon 5' singer Adam Levine allegedly cheats on pregnant wife; wants to name baby after his mistress?
In the Instagram post that Kangana Ranaut shared on her profile, the actor wrote: "The audacity to belittle The Kashmir Files, a film made on Hindu genocide (and) also trying to ride on its success. The Kashmir Files was made in ₹10 crore…"
"Now, according to mafia minions, Karan Johar film has beaten it (The Kashmir Files) brutally… Karan Johar ji aap kya cheeze ho yaar (what are you, Karan Johar)," she further wrote while taking a dig at Johar.
Meanwhile, Vivek Agnihotri in his tweet on Monday had written, "Hahahaha. I don't know how did they beat #TheKashmirFiles…with sticks, rods, hockey… or AK47 or stones... Or with paid PR and influencers? Let Bollywood films compete with each other. Leave us alone. I am not in that dumb race. Thanks."
ALSO READ: Akkineni Nageswara Rao birth anniversary: Nagarjuna remembers his father with 'immense love and gratitude'
Taking another dig at 'Brahmastra Part One: Shiva' and its box office collection, Kangana Ranaut wrote, "Post pandemic verdict model, especially invented for Karan Johar films… BTW (by the way) Thugs of Hindustan (2018) earned around ₹280 crore worldwide gross and its budget was also around ₹280 crore… Lekin (but) they didn't spend on PR machinery. Nahi toh (otherwise) with the new KJo (Karan Johar) models, no film will ever flop." She added the hashtag 'just saying'.
Per trade analysts, the Ranbir Kapoor and Alia Bhatt-starrer earned Rs 17 crore on Sunday and Rs 5.5 crore on Monday as it entered its second week. The film has crossed Rs 220 crore in terms of domestic collections reportedly and is eyeing for Rs 300 crore.
Last Updated Sep 20, 2022, 6:00 PM IST