Jawan director Atlee Kumar responds to plagiarism accusations; says, "A mob always wants to attack me..."
Atlee, the acclaimed Indian director, addresses persistent plagiarism accusations in his films, defending his creative process and resilience.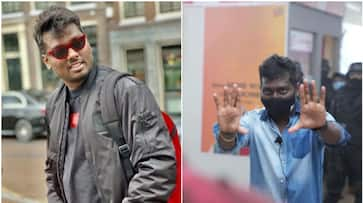 Atlee, a prominent figure in the realm of Indian cinema, particularly celebrated in Tamil cinema circles, has long been a subject of allegations regarding plagiarism in his cinematic endeavors. This director, known for works such as "Raja Rani," "Theri," "Mersal," and "Bigil," has consistently faced accusations of drawing inspiration from or replicating elements of other films.
The criticisms began with his directorial debut, "Raja Rani" in 2013, where parallels were drawn to the classic film "Mouna Ragam" directed by Mani Ratnam. Subsequently, accusations of thematic similarities recurred in his subsequent works, such as "Theri," which was purportedly deemed a confluence of various Tamil films. Even the Shah Rukh Khan-starrer "Jawan" did not escape similar scrutiny.
In a recent interview with Indian anchor Gobinath on YouTube, Atlee addressed these persistent allegations. He acknowledged the challenge of creating original narratives, stating, "There isn't a single story that hasn't been done yet." Atlee defended his creative process, emphasizing the diligence he puts into scriptwriting and expressing resilience in the face of swift comparisons, stating,  "I sit down and really work hard on my scripts. If someone sends a comment in two seconds comparing my movie to other movies, I will not think that all my effort and hard work is copied."
Responding to the criticism, Atlee noted "A mob always wants to attack me. Since my last film was a hit, they didn't say anything about it. It has also collected money." He further asserted, "So, what's the only way to beat me? Often, such criticism comes only from these people. The reason is the thought that 'he should not win'. Do you think Rajini sir, Vijay sir and Ajith sir don't have this problem? We have to fight and move forward. Will Shahrukh sir call me without knowing all this?"
Despite the controversies, Atlee's latest venture, "Jawan," featuring Shah Rukh Khan, emerged as a significant success in theaters. The film, centered on a jail warden's quest to combat social injustices while seeking personal retribution, garnered acclaim.
Presently, Atlee is taking a brief hiatus from filmmaking, dedicating time to his newborn. While he has not officially confirmed his next project, speculation arises from his mention that both Thalapathy Vijay and Shah Rukh Khan have expressed interest in collaborating with him. This has sparked anticipation and conjecture about a potential joint venture involving these two acclaimed actors in Atlee's future directorial endeavors.
ALSO READ: Koffee With Karan 8: Kareena Kapoor, Alia Bhatt's fun banter leaves fans awaiting for their on-screen union
Last Updated Nov 15, 2023, 2:05 PM IST