Koffee With Karan 8: Kareena Kapoor, Alia Bhatt's fun banter leaves fans awaiting for their on-screen union
Alia Bhatt and Kareena Kapoor Khan address the much-anticipated collaboration on "Koffee with Karan 8." In a playful game, they spill details about Karan Johar and hint at ongoing discussions for a joint movie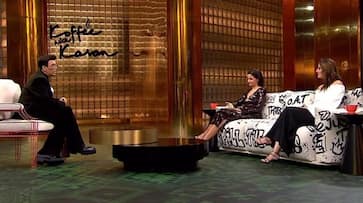 Alia Bhatt and Kareena Kapoor Khan are set to grace the eighth season of "Koffee with Karan," and the anticipation for the episode is at an all-time high after the duo recently sent the internet into a frenzy with pictures hinting at a collaboration. Although the collaboration turned out to be for an advertisement, the burning question of when these two Bollywood divas would share the screen in a movie has been on everyone's minds. Karan Johar, known for his knack for bringing together dynamic pairs, is finally bringing Alia and Kareena together on his iconic talk show.
In a new promo released ahead of the episode, the actresses engage in an entertaining game titled "Who's got the right roast?" where they answer questions about the show's host, Karan Johar. The much-asked question about when Karan plans to cast Alia and Kareena together in a movie is finally addressed by Alia. She shared, "One has discussed this," hinting at ongoing talks about a potential collaboration. Karan Johar added to the excitement, saying, "One is going into a regroup right after this and planning a movie."
The fun-filled segment also features the actresses answering quirky questions about Karan Johar's preferences. When asked how Karan likes his coffee, Kareena responded with her witty charm, suggesting, "He must be that oat milk almond milk types." Alia contributed by humorously correcting her preferred selfie side, initially suggesting the right but swiftly changing it to the left. The duo even showcased Karan's signature dance step, adding a playful touch to the episode.
ALSO READ: Courteney Cox pens heartfelt note for her 'Chandler Bing' aka Matthew Perry two weeks after his demise; Read
In a memorable moment, Alia referenced Kareena's iconic introduction track for the character Poo, "It's Raining Men," as the song that best describes Karan. When questioned about the recipe for a blockbuster Karan Johar movie, Alia playfully suggested "Bebo plus Karan," referring to Kareena by her nickname, while Kareena went for "Alia." Karan humorously intervened, asking them to stop fighting over him, to which Alia concluded with a laugh, "Everybody wants Karan."
ALSO READ: 'Had a slip of tongue': Abdul Razzak apologises for derogatory comments on Aishwarya Rai (WATCH)
Last Updated Nov 15, 2023, 1:17 PM IST