India Vs Pakistan: Arijit Singh requests Anushka Sharma for a snap; 'Chakda Express' actress obliges happily
In a thrilling Cricket World Cup 2023 match on October 14, India triumphed over Pakistan. Amidst the excitement, singer Arijit Singh requested a photo with actress Anushka Sharma at the stadium. Anushka is set to make her comeback after five years in the upcoming movie Chakda 'Xpress.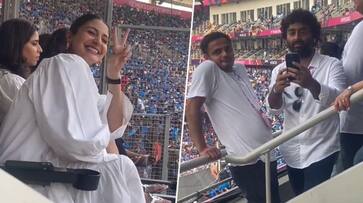 On October 14, 2023, the Indian cricket team faced off against the Pakistani cricket team in a highly anticipated match at the Cricket World Cup 2023. The Indian team continued their winning streak by defeating Pakistan, successfully chasing down the target of 191 runs with 7 wickets to spare. The fortunate spectators who were able to witness the action live at the Narendra Modi Stadium in Ahmedabad included notable personalities like Anushka Sharma and Arijit Singh, who were seen cheering for the Indian team. A video from the match has emerged online, capturing a moment where Arijit Singh requested Anushka Sharma for a photograph.
Despite not being present at the stadium, many cricket enthusiasts stayed glued to their screens, supporting their favorite team from the comfort of their homes. However, Anushka Sharma, the well-known actress and wife of cricketer Virat Kohli, was present in the stands to show her support for the Indian cricket team. Accompanying her was the renowned Indian singer Arijit Singh, who also enjoyed the thrilling match from the stadium. Amidst all the excitement, Arijit Singh had a fanboy moment when he noticed Anushka Sharma seated nearby. Seizing the opportunity, he approached the Bollywood actress and requested a photograph, to which Anushka happily obliged. A video of Anushka Sharma posing for Arijit's camera during the match has since gone viral. In the video shared by a fan page on social media, Arijit Singh can be seen wearing a white shirt with blue pants as he aimed his camera at the actress. Anushka, on the other hand, was dressed in a white outfit as she graciously posed for the photograph.
ALSO READ: India Vs Pak: Vijay Deverakonda, Gautham Vasudev, Varalaxmi Sarathkumar channel excitement for World Cup match
In terms of Anushka Sharma's professional endeavors, it has been some time since her last appearance on the big screen. Her most recent film was "Zero," in which she starred alongside Shah Rukh Khan, and it was released in 2018. Subsequently, she took on a producer's role for the movie "Bulbbul" in 2020 and made a cameo appearance in "Qala." Anushka is currently preparing for the release of her upcoming movie, "Chakda 'Xpress," which is expected to hit the screens soon. This marks her return to acting after a five-year hiatus, generating significant anticipation among her fans and the film industry.
Last Updated Oct 15, 2023, 9:14 AM IST