India Vs Pak: Vijay Deverakonda, Gautham Vasudev, Varalaxmi Sarathkumar channel excitement for World Cup match
Noted South celebrities cheer for Team India in the India Vs Pakistan cricket World Cup match. In the legendary India Vs Pakistan 2023 World Cup match, A-lister South superstars like Vijay Deverakonda, Gautham Vasudev, Varalaxmi Sarathkumar and others are channelling excitement for the World Cup match.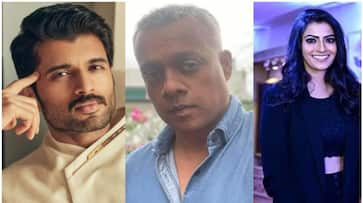 The highly anticipated ODI World Cup 2023 match between arch-rivals India and Pakistan has fans worldwide on the edge of their seats. The intense showdown is happening today, October 14, at the iconic Narendra Modi Stadium, Ahmedabad. The anticipation is at its peak as the in-stadium fan ceremony is poised to create an unforgettable atmosphere for this epic showdown. Both teams are preparing up to face each other with an intensity rarely seen in any other match.
ALSO READ: India Vs Pakistan 2023: Salman Khan urges Shubman Gill to play best shot in World Cup - Know Details
It has ignited excitement among dedicated cricket fans, politicians, and celebrities on both sides of the border who are fully engaged in the soiree. Cricket, revered as a religion in India, has captivated the hearts of millions. Renowned celebrities like Vijay Deverakonda, Gautham Menon, and Varalaxmi Sarathkumar took to social media to extend their best wishes to Team India. Their excitement and anticipation for the match are palpable.
"IND vs Pak, the greatest sports rivalry," says Vijay Deverakonda. "It is something I stop work for," the actor stated in the Star Sports video posted on X (formally Twitter).
Gautham Menon, the renowned Tamil filmmaker, recently expressed thrill and excitement for upcoming India vs Pakistan cricket match in a Star Sports Tamil promo. He said, "Pandya, Pakistan is coming to defeat us on our own soil. It is great plotting against us. Pandya, get the boys. We will go head to head."
This dialogue takes inspiration from a famous line from the iconic film Kaakha Kaakha, starring Suriya. It reflects the high stakes involved in the India vs. Pakistan match, which is one of the most anticipated cricket matches in the world.
In an Instagram story of the actress Varalaxmi Sarathkumar, amidst her busy filming schedule, as she was getting ready for the shoot in her caravan, the actress did not waste a second as she was watching the match in front of her on the iPad. Her dedication to catching the India vs Pakistan game in action is a testament to the enthusiasm surrounding this monumental clash.
ALSO READ: India Vs Pakistan 2023: Arijit Singh rejoices Babar Azam's wicket in iconic style - WATCH
Last Updated Oct 14, 2023, 8:48 PM IST