Gurmeet Choudhary's life saving CPR act goes viral; netizens applaud
Gurmeet Choudhary's heroic CPR rescue in Mumbai streets goes viral, earning him praise for his quick action.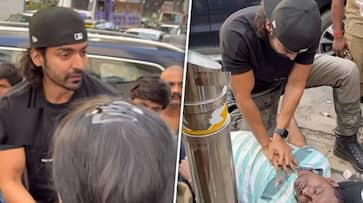 A video featuring the well-known television actor Gurmeet Choudhary administering CPR to a man who had collapsed on the streets of Andheri, Mumbai, has gained widespread attention on the internet. Netizens have been showering him with praise on various social media platforms for his courageous and life-saving act.
In the viral video, Gurmeet is depicted delivering chest compressions to the fallen individual, all while guiding another person to massage the collapsed man's feet. Observers were astonished by Gurmeet's rapid response, knowledge, and effective actions as they watched him provide vital assistance to the collapsed person.
ALSO READ: Rhea Chakraborty recalls doing 'naagin dance' in jail, being called a 'chudail'
Last Updated Oct 6, 2023, 1:50 PM IST