Gautami-Kamal no longer livin' together
End of their 13-year relationship surfaced virtually through a blog
Speculation suggests that the tiff between actors Shruthi Haasan and Gautami
Kamal and Gautami had mentioned that their relationship was built on mutual respect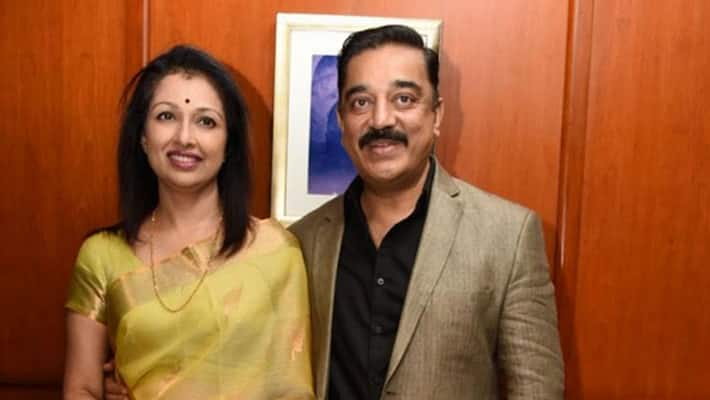 The duo first met in 1989 on the sets of Apoorva Sagodharargal. True to the meaning of the movie, actors Kamal Haasan and Gautami shared a unique bond, which started in 2005, wherein they decided to live together under one roof. They claimed to have no faith in the institution called marriage. The end of their 13-year relationship surfaced virtually through a blog maintained by Gautami.
"This is one of the most devastating decisions that I had to make in my life," Gautami said on her blog. Speculation suggests that the tiff between actors Shruthi Haasan and Gautami regarding the costumes designed for the forthcoming film Sabhash Naidu, could have paved the way towards separation. Shruti Haasan, while speaking to a daily, said it was a team effort when it came to costumes. She also said she had no time to discuss these rumours with her dad's special person. Gautami, in her blog, said, "It is not my intention to seek sympathy or assign blame."
Kamal Haasan, who will turn 62 on November 7, ended his 17 years of marriage with Sarika in 2004. He is believed to have stood by Gautami while she was diagnosed with cancer the same year. As she fought the Big C, she decided to remain with the Thevar Magan. Gautami, in an interview earlier, said, "I don't have a name to the relationship with Kamal." While inaugurating a cancer conference in Hyderabad last year, Kamal Haasan said, "Gautami is a real-life hero. Compared to her, I can only be categorised as a supporting hero." However, the rest of the journey has now turned out to be an anti-climax by comparison. And one can't help but remember the scene from Thevar Magan where Banu (played by Gautami) returns and finds Shakti (played by Kamal) married, and she breaks down heavily.
Years of togetherness have come to a grinding halt because "their paths have irreversibly diverged" (according to Gautami's blog). "I have always been a fan of Haasan's since before I came to the film industry. I continue to admire his monumental talent and achievements. I have also learned a great deal from working with his as costume designer on his films and I am proud that I was able to do justice to his creative vision in those films," her blog said.
Kamal and Gautami had mentioned that their relationship was built on mutual respect. Gautami always referred to him as 'sir' when in public. The Ulaganayakan did not have a smooth parting with previous relationships. While this does seem to reflect mutual consent, the heart-break seems evident. "This decision to set forth on my own at this stage in my life is perhaps one of the most difficult decisions any woman will ever have to make but it is a necessary one for me," Gautami said in her blog post.
In the first movie of Kamal and Gautami, there's a song that goes 'Raja kaiya vecha, adhu wrong ah ponnadhillai' (meaning anything that Raja touches will never go wrong). It's ironical, isn't it? Raja's touch hasn't ended right in real for the tinsel town's most celebrated couple.
Last Updated Mar 31, 2018, 6:57 PM IST