Matthew Perry buried in Hollywood's iconic cemetery, alongside Paul Walker, Willie Garson, Carrie Fisher
Matthew Perry has been buried at Forest Lawn Memorial Park Cemetery, the last resting place of some of Hollywood's most famous celebrities. Matthew Perry is known for his iconic role as Chandler Bing in the popular sitcom Friends.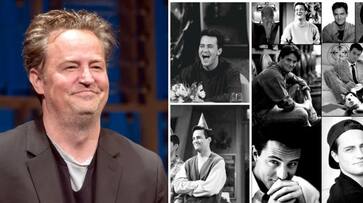 Matthew Perry was buried in Los Angeles, California's Forest Lawn Memorial Park Cemetery. The famous sitcom Friends was shot for ten years at Warner Bros. Studios, which is located across from the cemetery. Close friends and relatives of Perry, including costars Jennifer Aniston, Matt LeBlanc, David Schwimmer, Lisa Kudrow, and Courtney Cox, attended the intimate burial.
During the service, Perry's stepfather was also present. Celebrity actors Paul Walker (Fast and Furious) and Carrie Fisher (Star Wars) were buried next to the late 17 Again star.
Also Read: Matthew Perry Funeral: Jennifer Aniston, Courteney Cox, Lisa Kudrow, Matt LeBlanc and David Schwimmer spotted
Famous stars buried at Forest Lawn Memorial Park
Walt Disney, Stan Laurel of Laurel & Hardy, Debbie Reynolds, Fisher's mother, Bette Davis—once among the highest-paid women in the US—Willie Garson (Sex and the City), Lee Van Cleef (The Good, the Bad, and the Ugly), and Anne Heche (Psycho) are among the other notable people buried in the famous Hollywood cemetery. While not a prerequisite for interment, Forest Lawn Memorial Park is mostly home to late performers, singers, and other well-known individuals. The famous cemetery has a steep price tag of over $6,800, as Fox disclosed in 2019.
Perry's mourners were moved to tears by Peter Gabriel's song
Don't Give Up, a 1986 song by Peter Gabriel featuring Kate Bush, was played near the conclusion of Perry's burial, causing his loved ones to cry. The DailyMail was informed by an insider that the song's poignant lyrics had a profound effect on them. "There was not a dry eye in there," the outlet disclosed. Both laughter and tears were abundant.
Also Read: THROWBACK: When Jennifer Aniston became 'teary eyed' at idea of losing 'FRIENDS' co-star Matthew Perry
Speaking only were close friends and relatives. "Don't give up, 'Cause you have friends, Don't give up, You're not the only one, Don't give up, No reason to be ashamed, Don't give up, You still have us," are some of the noteworthy lines from the song.
 
Last Updated Nov 6, 2023, 10:11 AM IST