THROWBACK: When Jennifer Aniston became 'teary eyed' at idea of losing 'FRIENDS' co-star Matthew Perry
Jennifer Aniston is reeling from the death of her Friends co-star Matthew Perry, who was found dead in a hot tub at his Los Angeles home on November 28. Nearly 20 years before the death of Matthew Perry, Jennifer had broken down in tears at the notion of losing him during an interview with Diane Sawyer.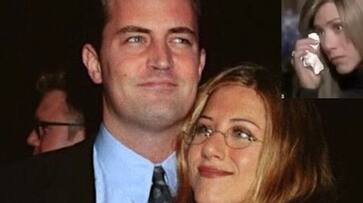 The sit-down interview has resurfaced on the internet following the death of Matthew Perry. In the interview, Jennifer, who considered Matthew as her own family, broke down into tears while talking about his struggle with addiction. When Diane Sawyer asked Jennifer what Matthew did not know" about himself and needed to hear, the actress replied, That he is alright." "He struggled," Aniston said while referring to his battle with drug and alcohol addiction.
ALSO READ: Comedian faces rage from netizens for taking potshots on 'death' of FRIENDS star Matthew Perry - READ
Jennifer added, "We did not know and were not really ready and equipped to deal with it. Nobody had ever dealt with that. And the idea of even losing him. He is just having a road. But he is alright."
Two days after the death of Matthew, Jennifer, Courteney Cox, Lisa Kudrow, and Matt LeBlanc, David Schwimmer gave an emotional tribute to their co-star, who portrayed Chandler Bing for ten seasons on the popular American sitcom.
In the wake of the tragic passing of beloved actor Matthew Perry, who is best known for his iconic role as 'Chandler Muriel Bing' on the hit TV series "Friends," his former co-stars Jennifer Aniston, Courteney Cox, Lisa Kudrow, Matt LeBlanc, and David Schwimmer have come together to share an emotional tribute to their dear friend. In a joint statement, they expressed their profound grief and their deep sense of loss.
For those unaware, in a joint official statement from the 'FRIENDS' cast, according to PEOPLE magazine, "We are all so utterly devastated by the loss of Matthew. We were more than just cast mates. We are a family. There is so much to say, but right now, we are going to take a moment to grieve and process this unfathomable loss. In time, we will say more as and when we are able to speak. For now, our thoughts and our love are with the family of Matty, his friends, and everyone who loved him around the world."
ALSO READ: Jennifer Aniston, Courteney Cox and other FRIENDS cast issue joint statement on Mathew Perry death; Read
Last Updated Nov 1, 2023, 12:30 PM IST