Ex-CBFC member Ashoke Pandit on Vishals allegations against censor board heres what he said
Vishal, a producer and actor from Tamil Nadu, accused the CBFC headquarters in Mumbai of soliciting bribes. Ashoke Pandit, an ex-member of the CBFC, has now responded to it.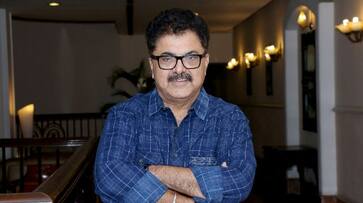 Vishal, a Tamil actor and producer, claims that the Mumbai branch of the Central Bureau of Film Certification (CBFC) demanded a payment of Rs. 6.5 lakh in exchange for the Hindi censor rights to his most recent movie, "Mark Antony." He had even requested the assistance of PM Modi and Maharashtra CM Eknath Shinde. Ashoke Pandit, an ex-member of the CBFC, has now responded to his accusations. Ex-CBFC member Ashoke Pandit replied when Tamil actor Vishal accused the Mumbai branch of the CBFC of corruption and mismanagement.
ALSO READ: Atlee celebrates a decade of his directorial debut 'Raja Rani'; Nayanthara extends affection to Jawan director
He remarked in an exclusive interview with India Today.in, "On behalf of IFTDA, we are submitting a letter to Prasoon Joshi and asking for a CBI probe on these charges. Whoever the money was handed to needs to be examined because the people who stole it are not CBFC employees. Mark Antony, Vishal's most recent film, has been doing well at the Tamil box office. The film's creators intended to release the Hindi-dubbed version of the movie as well after evaluating the reception. 
In the midst of this, Vishal recently uploaded a video in which he accused CBFC Mumbai of requiring a Rs 6.5 lakh payment in exchange for the Hindi version of the movie. On September 28, Vishal posted a video of himself discussing the problem on X (formerly known as Twitter). He also created a lengthy caption that addressed the same issue. He wrote, "#Corruption being shown on the silver screen is fine. But not in real life. Can't digest it. Especially in govt offices. And even worse is happening in the #CBFC Mumbai office. Had to pay 6.5 lacs for my film #MarkAntonyHindi version. 2 transactions. 3 Lakhs for screening and 3.5 Lakhs for certificate. Never faced this situation ever in my career (sic)."
Had no choice except to pay the concerned mediator #Menaga because the stakes were too high considering the movie's premiere today, he continued. I'm bringing this to the attention of my Honourable PM Narendra Modi and the Hon. Chief Minister of Maharashtra. Not for myself, but for upcoming producers, I'm doing this. NOT TAKING PLACE. Is my hard-earned money being used to fund corruption? No way. Evidence presented for public hearing. I hope the truth wins out as usual. GB (sic)."
ALSO READ:  Daniel Radcliffe pens heartfelt note for Michael Gambon aka Dumbledore; calls him a legend
Last Updated Sep 29, 2023, 1:13 PM IST