Daniel Radcliffe pens heartfelt note for Michael Gambon aka Dumbledore; calls him a legend
Michael Gambon, known for his role as Dumbledore in Harry Potter, passed away at 82. Co-star Daniel Radcliffe and others paid tribute to his brilliance and joyful presence. JK Rowling and fellow cast members also expressed their respect and condolences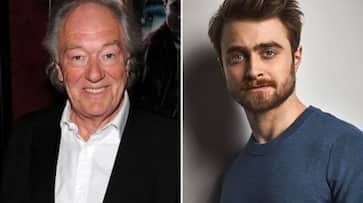 Michael Gambon, celebrated for his portrayal of the beloved character Headmaster Albus Dumbledore in the Harry Potter film series, has passed away at the age of 82. His demise has left fans, movie enthusiasts, and Harry Potter devotees around the world deeply saddened. Gambon took on the iconic role of Dumbledore starting from the third installment of the franchise, "Harry Potter and the Prisoner of Azkaban," and continued through to the final two films, "Harry Potter and the Deathly Hallows Part 1 and Part 2."
According to reports, Michael Gambon succumbed to pneumonia on September 28, a Thursday. He was surrounded by his wife, Anne Gambon, and their son, Fergus Gambon, during his final moments. The passing of the venerable actor prompted heartfelt tributes from members of the Harry Potter cast, including the franchise's leading man, Daniel Radcliffe.
In an official statement provided to Variety, Daniel Radcliffe expressed his grief over the loss of his longtime co-star, Michael Gambon. Radcliffe, visibly moved by Gambon's passing, praised the late actor as one of the most exceptional and effortless talents he had the privilege of working with. Radcliffe's statement reads, "With the loss of Michael Gambon, the world just became considerably less fun. Michael Gambon was one of the most brilliant, effortless actors I've ever had the privilege of working with. But despite his immense talent, the thing I will remember most about him is how much fun he had doing his job."
Radcliffe also reflected on his time working closely with Gambon, particularly during the sixth film in the series, where their on-screen collaboration blossomed. He shared how Gambon made their hours in front of a green screen remarkably enjoyable and memorable. Radcliffe concluded his statement by expressing his sadness at Gambon's passing and his gratitude for having had the opportunity to work alongside such a remarkable talent.
In addition to Daniel Radcliffe's heartfelt tribute, other prominent figures from the Harry Potter universe, including the series' creator, JK Rowling, Rupert Grint (who portrayed Ron Weasley), and Jason Issacs (known for his role as Lucius Malfoy), took to their social media platforms to pay their respects to the late Michael Gambon.
Michael Gambon's passing marks a somber moment in the world of entertainment, as he leaves behind a legacy of exceptional talent and memorable performances, forever etched in the hearts of fans and fellow actors alike.
ALSO READ: Joe Jonas, Sophie Turner divorce: Former spends quality time with daughters amidst proceedings
Last Updated Sep 29, 2023, 11:40 AM IST