Atlee celebrates a decade of his directorial debut 'Raja Rani'; Nayanthara extends affection to Jawan director
Jawan director Atlee celebrates 10 years in the industry with his directorial debut 'Raja Rani'. Nayanthara, his first heroine happens to be the first of heroine of his bollywood debut 'Jawan' too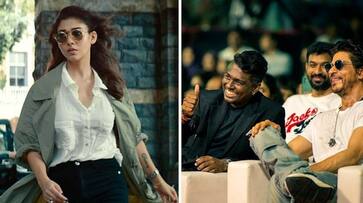 Jawan director Atlee, after the phenomenal success of his Bollywood debut, Shah Rukh Khan starrer "Jawan," is basking in the glory of his illustrious career as he marks a significant milestone – the 10th anniversary of his directorial debut, "Raja Rani." The romantic comedy, released in September 2013, remains a cherished gem in the world of Tamil cinema and continues to captivate audiences.
Atlee's journey has reached new heights recently with the mega success of "Jawan," his first foray into Bollywood, featuring the iconic Shah Rukh Khan in the titular role. This mass-action extravaganza has not only shattered records but also entered the prestigious 1000-Crore club of Indian cinema, solidifying its position as one of the year's most significant blockbusters.
Meanwhile, Atlee is taking a moment to celebrate the decade-long journey since the release of "Raja Rani." The film, known for its heartwarming story and stellar performances, starred popular Tamil actor Arya and the lady superstar Nayanthara in leading roles, making it an enduring classic in the romantic comedy genre.
In a heartfelt tribute on his official Instagram handle, Atlee expressed his gratitude to the cast and crew who contributed to the success of "Raja Rani." He thanked Arya and Nayanthara, as well as the talented actors Jai and Nazriya Nazim Fahadh, who played pivotal roles. Additionally, he extended his appreciation to all the stars and technicians who played crucial roles in his cinematic journey, including the leading men of his most triumphant projects, Thalapathy Vijay and Shah Rukh Khan, and his mentor, director S Shankar.
Reflecting on his remarkable decade in the film industry, Atlee expressed profound gratitude to everyone who supported him – from his family, friends, and well-wishers to the press, TV channels, and, most importantly, his audience and fans. He acknowledged that the journey had been nothing short of a dream and credited the unwavering support and motivation from his well-wishers for pushing him beyond his limits. In conclusion, Atlee humbly acknowledged the role of destiny, expressing gratitude for the learnings and opportunities that lie ahead, signifying that this is just the beginning of a promising career.
ALSO READ: Joe Jonas, Sophie Turner divorce: Former spends quality time with daughters amidst proceedings
Nayanthara, the lady superstar of South cinema, who has collaborated with Atlee on various successful projects, including "Raja Rani," "Bigil," and "Jawan," couldn't contain her pride and affection for the director. She shared Atlee's heartfelt post on her Instagram story with a touching caption: "Atlee... Proud of you ❤️."
Last Updated Sep 29, 2023, 12:14 PM IST