Did Joe Jonas feel 'disconnected' from ex-wife Sophie Turner months before divorce?
Critically acclaimed singer Joe Jonas was reportedly quite sensitive and detached about family-related matters over the months leading up to the divorce. Joe Jonas felt separated and detached for several months before divorce.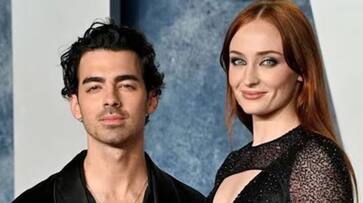 Musician Joe Jonas and actress Sophie Turner officially confirmed their decision to divorce each other last week. The announcement came after speculation about their tumultuous marital relationship, but the ex-couple insisted their move was amicable. According to updates, the report by Page Six suggests Joe Jonas was quite sensitive and detached about family-related matters over the months leading up to the divorce. Reports state that the trouble in their paradise and his changed demeanour existing since April.
ALSO READ: AR Rahman's team reaches out to people via E-mail who were denied entry at Chennai concert
"Joe seemed very sensitive, almost touchy, when asked anything about his wife or family-related issues, so I am guessing things were on the rocks with them before that," reportedly said a source close to the Jonas Brothers singer. The duo remained happily married for four years before calling it quits for each other. In a joint statement shared on social media, Joe Jonas and Sophie Turner emphasised their mutual and united front while parting ways. Their statement read, "After four wonderful years of marriage, we have decided to end marriage."
The announcement also cautioned fans to avoid being misled by any speculative narrative surrounding their state of marriage. In addition to this, the duo asked for privacy while dealing with personal crises. They added, "There are many speculative narratives as to why. But, it is a united decision, and we sincerely hope that everyone can respect our wishes for privacy for us and our children."
Joe Jonas and Sophie Turner initially connected through Instagram DMs. But, after spending an evening at a British pub, the duo fell head over heels for each other. Singer Joe Jonas popped the big question after one year of dating. They decided to tie the knot in 2019. Notably, they got hitched twice, once in a surprise wedding ceremony held in Las Vegas, followed by a grand celebratory affair in France. The duo share two daughters together. Daughter Willa, who they welcomed in 2020. Her little sister who was born two years later, in 2022.
ALSO READ: Sima Taparia's statement against girls who want 'divorce' flags off new controversy
Last Updated Sep 13, 2023, 1:58 PM IST