Sima Taparia's statement against girls who want 'divorce' flags off new controversy
Sima Taparia of Indian Matchmaking has made a controversial statement saying people who seek divorce are egoistic. Sima Taparia has broken the silence about girls who want a divorce. She has flagged off a new controversy. Scroll down to know more.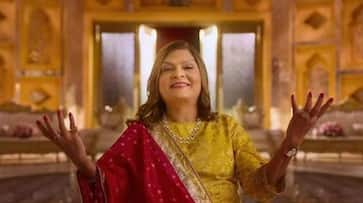 Sima Taparia, host of Indian Matchmaking, is in the headlines again thanks to her controversial remarks. In a recent interview, she discussed divorce and differences between Non-Resident Indians and Indians. Sima Aunty mentioned that people who seek divorce are egoistic. Not just this, she made a controversial statement saying women who are highly educated are unlikely to listen to others. She said, "Those whom I have matched. They have not taken a divorce yet. But if it happened, it is because they do not have patience, flexibility, no willingness to adjust and have egoism. It is how problems get created. They do not have the values of giving, sharing and caring."
ALSO READ: Pushpa 2 Vs Singham 3? Is Ajay Devgn upset with Allu Arjun over their films' release date? Read this
She also shares, "People are divorcing because there is no patience, no adjustment, egoism, ladkiya itana padh likh lete hai toh they say why should I listen to anybody (Highly educated girls do not listen to anybody)."
Sima also gave a colourist comment. It read, "There is a very influential family in the South. Their son is very dark. In the South, people are generally dark. His mom's criteria list was very long. But thankfully, they got the girl they exactly wished for. Not many people have such criteria. But, who does not want a beautiful daughter-in-law."
Sima Taparia also discussed the difference in lifestyle of an NRI with that of an Indian and shared, "NRIs can not spread their wings everywhere because they have a lot of work to do. They have to do the house chores, drive their car, work in the office and cook for themselves. We are free birds in India. We are so lucky that we get domestic help here. So we can do many other things."
ALSO READ: Prabhas starrer movie 'Salaar' release date postponed; producers reaction out
Last Updated Sep 13, 2023, 12:20 PM IST